Why I'm glad Overwatch's fun new horde mode is just for Halloween
It's high moon.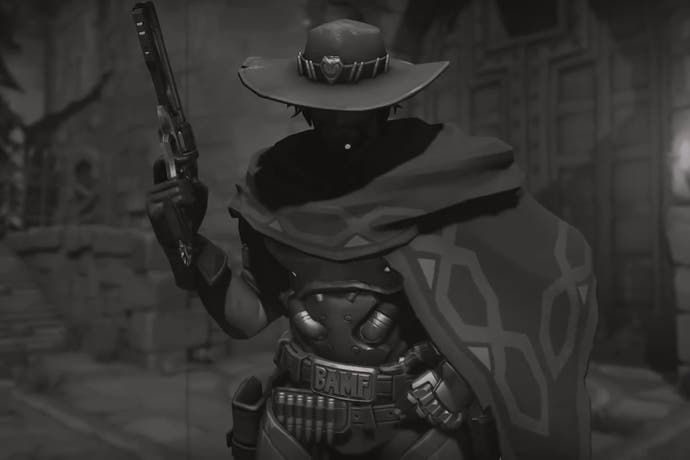 There's no question Junkenstein's Revenge, Overwatch's new Halloween-themed horde mode, is good fun. Compared to the Brawl modes that Overwatch has had before, this is night and day, an introduction to the potential of Blizzard's multiplayer hero shooter as a co-op player versus the computer kind of game. But I'm happy Dr. Junkenstein's Revenge will soon go away.
It isn't because I don't like it. I do. I love how you're forced to choose from only four characters. It plays perfectly on their strengths and weaknesses, making them feel like conquering heroes yet fragile against the odds.
I love the production values. I love how Blizzard has made this feel like a new mode even though it's only really a Brawl on a portion of the Eichenwalde map. It's been stirred in a cauldron, spookified, with eerie music and ominous narration, and there are cinematic cutaways when important things happen - like bosses spawning.
And I love that there are bosses, and that those bosses are heroes I've played as so many times in Overwatch before. Roadhog, Reaper, Mercy and Junkrat all appear individually, and then together, and are bloody hard to take down. And I love the difficulty that comes with that, the hanging on as the tables turn and the odds become insurmountable.
It's so impressive how Blizzard has stitched together something new and stylish and fiendishly compelling from parts that were already there. And as an introduction to PVE it bodes so well. But I'm happy it's going.
Like a bowl of Halloween treats, Dr. Junkenstein's Revenge will be gorged on, and the initial excitement at tucking in won't - and can't - last. Those five or 10 minute games will quickly pile up and you will soon have had your fill. Or, ideally, you'll be left wanting more. But what you don't want is people getting sick of it.
It's like Halloween. If we could all dress up every month and gorge on sweets then how much fun would it really be? It being once a year makes Halloween an exciting event, a special occasion. Stretch it out and you lose that, just like you'd lose the appeal of Dr. Junkenstein's Revenge if you were to do the same.
Think about Lucio Ball, the Summer Games Brawl event added earlier in the year. Fair play, it was pants, but where would it be now if it had lingered on in the game? How many people would play it?
Dr. Junkenstein's Revenge is a distraction, one that's both most welcome and a lot of fun, but it isn't the core of what Overwatch is about. This is a game looking a bit malnourished compared to other better content-fed online games, but what keeps it going for 20 million players is that fundamental freshness of other people. Playing against other people is infinitely new, and that is the bread and butter of what Overwatch is about.
Let Dr. Junkenstein's Revenge come and go. Revel in it, enjoy it, gorge on it - it deserves it. But then let it go, leave yourself wanting more. Because if Junkenstein's Revenge is anything to go by, one day we'll get it - and it will be well worth the wait.