The Elder Scrolls 6 not coming to PlayStation, confirms Microsoft court document
And don't expect it before 2026.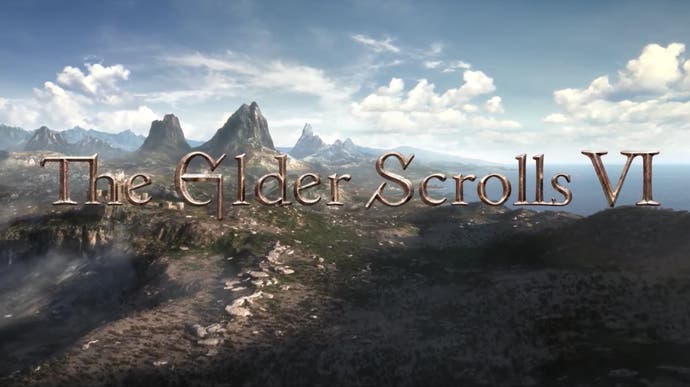 In news that isn't likely to be much of a surprise to anyone at this point, a newly unearthed Microsoft court document has confirmed The Elder Scrolls 6 won't be making its way to PlayStation when it eventually shows up in 2026 or beyond.
Microsoft submitted the document (thanks The Verge) as part of its court battle with the US Federal Trade Commission over its proposed $69bn USD acquisition of Activision Blizzard - the same court proceedings that saw Xbox boss Phil Spencer answer an FTC attorney's questions about The Elder Scrolls 6's Xbox exclusivity by saying, "I think we've been a little unclear on what platforms it's launching on, given how far out the game is. It's difficult for us right now to nail down... It's so far out it's hard to understand what the platforms will even be at this point."
Despite Spencer's noncommital answer back in June, Microsoft's newly released court documents make it explicitly clear The Elder Scrolls 6 won't be coming to a PlayStation console.
As per a table intended to illustrate Microsoft's approach to exclusivity following its acquisition of Bethesda in 2021, the company noted four of the studio's games had either released on or continued to be supported on PlayStation in that time - the initially PlayStation-exclusive Ghostwire: Tokyo and Deathloop, as well as Fallout 76 and The Elder Scrolls Online. The table also shows that Bethesda's next three titles - the already released Redfall and Starfield, and the upcoming The Elder Scrolls 6 - will be Xbox and PC only.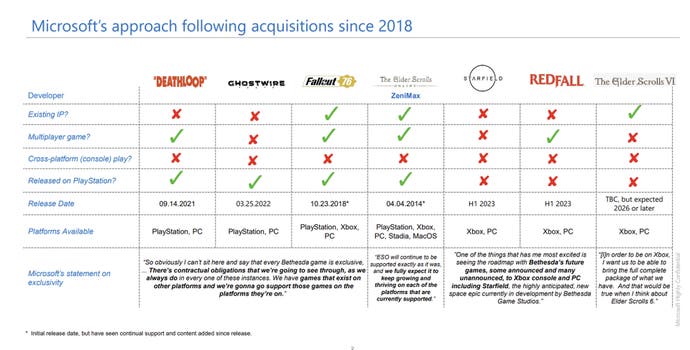 This, of course, helps tie up a few other loose ends relating to another court document submitted as part of the FTC's case last year, in which Microsoft lawyers noted "three future titles....will be exclusive to Xbox and PCs". At the time, Starfield and The Elder Scrolls 6 were both assumed to be included in that list - which we obviously now know to be true - and thanks to yet another court reveal earlier this year, this one courtesy of Bethesda's Pete Hines, we also know Bethesda's third Xbox and PC exclusive will be Indiana Jones.
As for when The Elder Scrolls 6 might finally see the light of day, it's clearly still some considerable way off. Back in June, Phil Spencer noted the game - which was announced in the summer of 2018 - was likely to be "five-plus years away" given it's being handled by the same team as the recently released Starfield. Microsoft's newly unearthed court document supports that, saying The Elder Scrolls 6 is "TBC, but expected 2026 or later".