Microsoft buying Bethesda and Zenimax for $7.5bn
Elder Scrolls! Fallout! Wolfenstein! Dishonored! Doom! Prey! Quake! Starfield!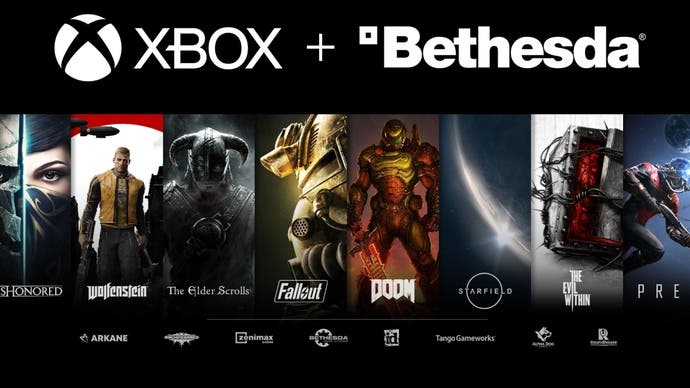 UPDATE 4.30PM UK: According to Bloomberg [paywall], the established PS5 timed-exclusivity for Deathloop and Ghostwire: Tokyo will not be changed by today's acquisition. (Yes, that means Microsoft will technically be publishing two PlayStation 5 timed-exclusives.)
Beyond these, the rest of Bethesda's upcoming games (such as the next Elder Scrolls) will launch on Xbox, PC and "other consoles on a case-by-case basis", the outlet was told by Xbox boss Phil Spencer.
---
ORIGINAL STORY 2PM UK: In a monumental acquisition that shakes up the gaming landscape, Microsoft has announced it will acquire ZeniMax Media, the parent company of Bethesda, id Software, Arkane Studios, MachineGames, Tango Gameworks and more, for $7.5bn.
The list of games franchises now part of the Xbox family makes for astonishing reading. It includes The Elder Scrolls, Fallout, Doom, Dishonored, Wolfenstein, Prey, Rage, The Evil Within, Quake and the upcoming Starfield.
The news was broken publicly this afternoon by Bloomberg journalist Jason Schreier, seconds before Microsoft made it official.
Xbox boss Phil Spencer welcomed the long list of ZeniMax studios and franchises to Microsoft's own family of Xbox Game Studios in a blog post where he also mentioned - briefly - the subject of exclusivity.
"As one of the largest, most critically acclaimed, privately held game developers and publishers in the world," Spencer wrote, "Bethesda is an incredibly talented group of 2300 people worldwide who make up some of the most accomplished creative studios in our industry across Bethesda Softworks, Bethesda Game Studios, id Software, ZeniMax Online Studios, Arkane, MachineGames, Tango Gameworks, Alpha Dog, and Roundhouse Studios.
"These are the teams responsible for franchises like The Elder Scrolls, Fallout, Wolfenstein, Doom, Dishonored, Prey, Quake, Starfield and many more."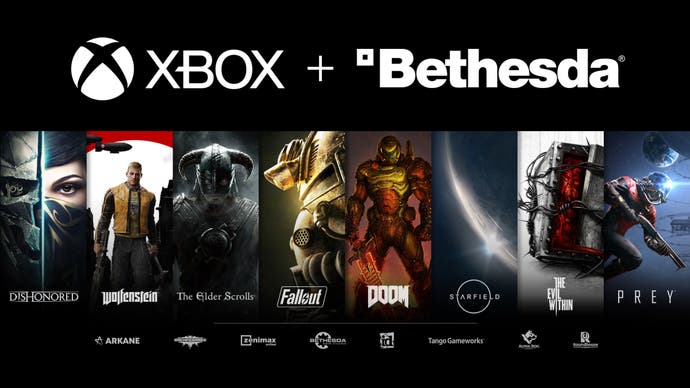 Spencer stopped short of saying future games will be exclusive, but said he was looking forward to the company's array of upcoming games launching on PC and Xbox consoles.
"One of the things that has me most excited is seeing the roadmap with Bethesda's future games, some announced and many unannounced, to Xbox console and PC," he said, "including Starfield, the highly anticipated, new space epic currently in development by Bethesda Game Studios."
However, Microsoft has confirmed all new Bethesda and Zenimax games will join Xbox Game Pass for console and PC. Whether they come to PlayStation 5 or not, the suggestion here is clear - these games will be included at launch on Xbox Game Pass, or will likely be $70 a pop if and when they turn up on PS5.
"We share a deep belief in the fundamental power of games, in their ability to connect, empower, and bring joy. And a belief we should bring that to everyone - regardless of who you are, where you live, or what you play on. Regardless of the screen size, the controller, or your ability to even use one," Bethesda's Todd Howard said in a statement today.
"We can't think of a better group of people to do that with than those at Xbox. We have friendships that go back to those original days. From Phil to his senior leaders to developer support, they don't just talk about putting players first, they passionately live it."
When asked what today's acquisition news meant for forthcoming PlayStation 5 timed-exclusives Deathloop, made by Arkane, and Ghostwire: Tokyo, made by Tango Gameworks, Bethesda was not able to provide any more details.
We've contacted Microsoft for more.