Super Mario Advance 4's rare e-Reader levels recreated in Mario Maker
Critically scanned.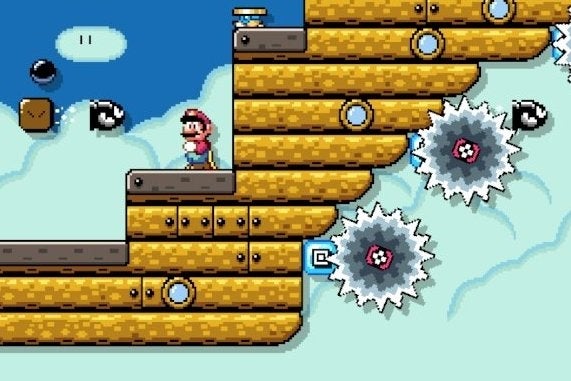 Reckon you've played every Mario level? Maybe it's time to think again.
A selection of rarely-seen levels, originally designed by Nintendo, have now been re-created via Wii U level designer Super Mario Maker.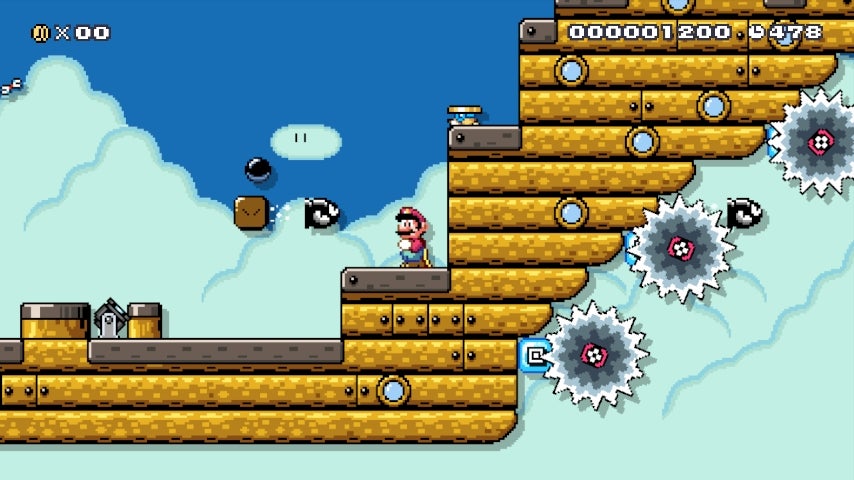 These 30 levels were included in the Game Boy Advance release of Super Mario Bros. 3 (which was also confusingly titled Super Mario Advance 4).
But these levels were hidden away and not normally available to play. Titled as "World-e", this selection was only unlockable with the GBA's rare e-Reader peripheral and its series of even rarer Super Mario Advance collectible cards.
Now, you don't need any of that to play them - as a fan has re-created the whole selection in Mario Maker (well, almost - there are three levels that feature items not yet found in Mario Maker's toolkit).
Posting via Reddit, Mario fans Baddboy78 and theycallmeshaky revealed their version of World-e, along with a download code for each level:
E-1 Wild Ride in the Sky: 2B4B 0000 007B 5343
E-3 Bomb Volley: FE1E 0000 007B 53BC
E-4 Pipes O'Plenty: F5F3 0000 007B 546E
E-5 Bombarded by Bob-Ombs: 1209 0000 007B 559D
E-6 Magical Note Blocks: 4388 0000 007B 5682
E-7 The Ol' Switcheroo: 8F1F 0000 007B C071
E-8 Piped Full of Piranhas: 6078 0000 007B E3D8
E-9 Swinging Bars of Doom: 7742 0000 007D F093
E-10 Para Beetle Challenge: 656C 0000 007E 1CC9
E-11 Magical Note Blocks 2: B3DB 0000 0080 4E1C
E-12 Airship 1: 660E 0000 0081 0A27
E-13 Chill Cavern: A8C9 0000 0081 33FA
E-16 Castle a Go-Go: BC9E 0000 0082 FFF5
E-17 Frappe Snowland: 3245 0000 0083 25D7
E-18 Frozen Fortress: A403 0000 0084 0A35
E-19 Brick Maze: 2967 0000 0085 E914
E-21 60 Seconds: 3A6B 0000 0087 5003
E-22 Ropeland: 81A6 0000 0087 E28E
E-24 Clear Skies: B111 0000 0084 2101
E-25 Koopahari Cavern: 637A 0000 008A CB63
E-26 Aqua Bars of Doom: 3305 0000 008B 706A
E-27 The Gauntlet: EF71 0000 008C BC39
E-28 Hammer Bro. Ship: 240D 0000 008E C639
E-29 Bowser's Airship - Part 1: 1E56 0000 008F 0485
E-30 Bowser's Airship - Part 2: FFD8 0000 008F 9487
See a full gallery of the stages here or for reference, here's how the levels originally looked back in their e-Reader form:
Become a Eurogamer subscriber and get your first month for £1
Get your first month for £1 (normally £3.99) when you buy a Standard Eurogamer subscription. Enjoy ad-free browsing, merch discounts, our monthly letter from the editor, and show your support with a supporter-exclusive comment flair!