Square Enix pulls an unlisted Kingdom Hearts 3's Re:Mind DLC teaser… but not before fans spotted the release date
Aerith, Leon, and Yuffie make an appearance, too.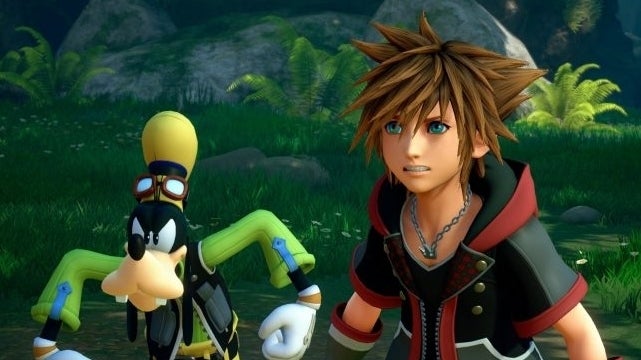 Only last week, director Tetsuya Nomura told us he was unable to share a release date for Kingdom Hearts 3's Re:Mind DLC because "people would get mad at him". Fast-forward seven days, however, and a new teaser on Square Enix's YouTube channel finally reveals one: 23rd January 2020, for PlayStation 4, and 25th February for Xbox One.
That said, it doesn't look like Square Enix was quite ready to make the announcement just yet, as Square pulled the trailer shortly afterwards. In that time, however, fans managed to snag the release date, as well as confirm that Final Fantasy characters will be in the DLC, too, alongside Disney favourites, including Aerith, Leon, and Yuffie as well as playable characters Kairi and Riku (thanks, Gematsu).
Thankfully, our pals at US Gamer managed to grab a copy before the teaser was pulled, but be careful; it contains spoilers for Kingdom Hearts 3, so only click if you've completed it or are happy to have the base game spoiled:
"ReMIND-the other tale that unfolded during the climax of Kingdom Hearts III," the video description reportedly said. "Determined to rescue Kairi, Sora travels to the Keyblade Graveyard a short time before the final battle was to take place. Lacking a corporeal form, he traces the hearts of the seven guardians of light. Through experiencing their personal battles firsthand, Sora is about to discover truths that he has never before imagined."
In celebration of the Kingdom Hearts 3 concert in Osaka, Japan, last weekend, the developer/publisher also shared information about the upcoming DLC, including a photo mode, slideshow mode, fast pass mode, and "black code", which "lets you tweak the difficulty to extra hard including choosing how much health you have".
This latest batch of info comes on top of features already confirmed, including new bosses, a bonus gameplay scenario, new cutscenes, and new Keyblades and forms.