Sony working to fix broken Ni No Kuni PSN download
UPDATE: It's working now.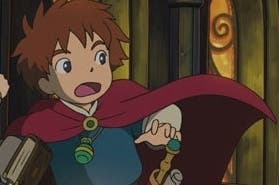 Update: Ni No Kuni downloads should be working properly now. The PlayStation Europe Twitter account stated, "If you purchased it this morning or pre-ordered, visit the Store & make a free purchase of the game to receive the second part of the download."
Original story: Gamers who pre-ordered the £49.99 digital download version of excellent RPG Ni No Kuni have been left unable to download the title from the EU PlayStation Store.
The download file present on Sony's servers is just 6GB in size - 21GB short of the game's full 27GB. It was a mistake spotted and reported by PlayStation community members three days ago, but nothing was done about it.
"A bunch of us pre-ordered Ni No Kuni from the European Playstation Store based on the promise of it pre-loading and being ready to play at midnight last night," a Eurogamer reader - one of many to contact us about the problem - explained.
"Many of us have been charged for the game and it is still broken at this time. Sony have been frustratingly quiet about everything fobbing us off with the usual 'we're working on it' automated response."
Another reader claimed Sony had ignored the issue, despite it being brought up earlier in the week.
"The MOST frustrating thing is that there is already a thread on that forum made three days ago where somebody spotted the mistake and brought it up, only to be told they were wrong!! Marked as SOLVED. *RAGE*"
Sony was aware of the problem at half past nine this morning, the company wrote on its Twitter account.
"We're aware of issues with the Ni No Kuni digital download and are working to fix it right now. We'll update soon."
Another update, posted in the last half hour, claimed the process would be completed soon.
"Ni No Kuni is being re-published to the Store now. We're hoping this process will be complete this afternoon - we'll update again soon."
We've asked Sony for more information on what went wrong. We'll update when we hear back.