Sims 4's university expansion officially unveiled, out next month on PC
Console release in December.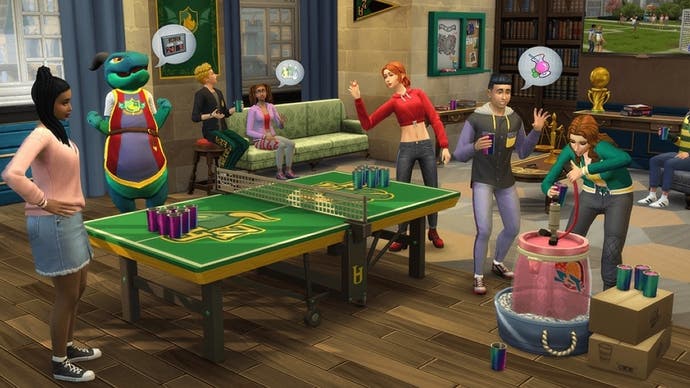 Following the premature unveiling of The Sims 4: Discover University this weekend, EA has now made its next Sims expansion official. It's coming to PC and Mac next month, to consoles in December, and there's an illuminating trailer to accompany the announcement.
Discover University is, believe it or not, all about the student life, with players first needing to decide whether their Sims will attend the historical University of Britechester or the considerably more modern Foxbury Institute in their search for higher education.
Sims can either live on-campus or further afield (those needing to travel can take advantage of the expansion's new mode of transport, bikes), and Discover University will incorporate the usual array of decorative items and furniture - including posters and mini-fridges - to ensure that dorm rooms feel like homes away from home.
Once the school day begins, Sims can attend lectures, write term papers, and give presentations - and those that exceed in their studies will benefit later in life. EA explains that classes - which range from the more traditional likes of biology and computer science, all the way to villainy - will affect Sims' final grades and influence their future career performance.
University life isn't all about learning though; free periods can be spent in the campus common areas (although a library is available for those wanting to squeeze in a bit of extra study), and the expansion also includes organised extra-curricular activities likes robotics, debate, and art clubs, or more casual endeavours like socialising and juice pong.
The Sims 4's Discover University expansion comes to PC and Mac on 15th November, and it'll arrive on Xbox One and PS4 a little later, on 17th December.