Shovel Knight unearths at the end of Q1
Entering alpha now. New trailer too!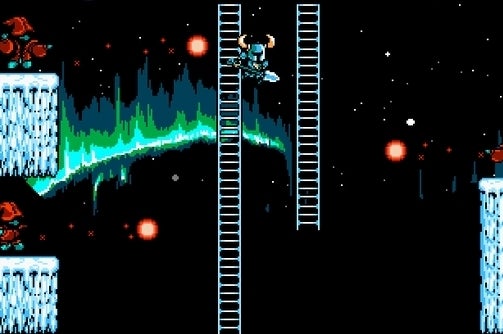 Retro platformer Shovel Knight - the debut title of ex-Wayforward staff at Yacht Club Games - is now slated for a 31st March release on PC, Wii U and 3DS, the developer has revealed in a new trailer.
Mac and Linux versions will follow shortly, Yacht Club clarified on its FAQ page.
In the meantime, the game has just entered its alpha phase, which should be exciting to its higher-pledging Kickstarter backers. The studio clarified that its definition of alpha means means it has "first pass completion of all content in the game. All features are implemented. All levels are playable. All bosses are fightable. All items are gettable! Everything is there. You can play the entire game from front to back. It's all real!"
Like a lot of Kickstarter projects, Shovel Knight missed it original release window of September 2013 by some margin, but Yacht Club noted that the game simply increased in scope - as one would imagine it might when it flew past its $75,000 Kickstarter goal with $311,502 back in April. "If you're wondering why it took so long, let's just say the game got a lot bigger than we originally intended, and we think everyone will be happy with that," the developer stated on its official site.
In the meantime, you can pre-order the Steam version of the game on PC, Mac and Linux for $15, or get the Deluxe Edition for an extra $10 that includes a digital manual and art book.