Shovel Knight's King of Cards campaign and Showdown spin-off out in December
Plus, a first look at new game Shovel Knight Dig.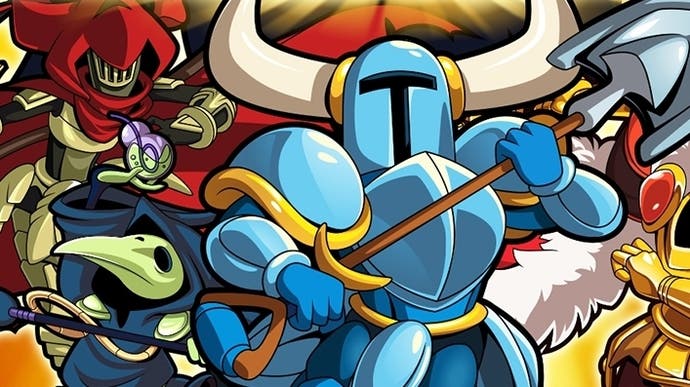 Developer Yacht Club Games has unearthed a whole load of Shovel Knight news, revealing that its long-awaited King of Cards campaign and fighting spin-off Shovel Knight Showdown will finally be releasing on all supported platforms this December. Additionally, a new game for the spade-wielding hero, Shovel Knight Dig, has been revealed.
This flurry of Shovel Knight announcements comes courtesy of Yacht Club's latest livestream, which also featured new trailers for both King of Cards and local four-player brawler Shovel Knight Showdown. Yacht Club called the former, which builds its 2D platform action around King Knight this time around, "bigger than any game we've ever made", noting that it actually includes a complete card game, Jaustus, technically making it two experiences in one.
Shovel Knight Showdown (which won't be available on Vita or 3DS) and King of Cards will be free to all owners of the Shovel Knight: Treasure Trove bundle, or can be purchased separately. An updated physical release of Treasure Trove will arrive this December, incorporating Shovel of Hope, Plague of Shadows, Spectre of Torment, King of Cards, and Showdown. It'll be available on Switch, PlayStation 4, and, for the first time, Xbox One.
Release day will also see a sizeable free update that introduces new features and quality of life improvements to the three existing Shovel Knight Campaigns. Shovel of Hope players will, for instance, gain the ability to unlock feats in co-op, and there will be a them/they option for character pronouns too.
Plague of Shadows, meanwhile, gets a new alchemy quick-select option, enabling players to change up bombs freely, and Spectre of Torment's Challenge Mode will be graced with five new platforming challenges that Yacht Club says are "not for the faint of heart".
Finally, all Shovel Knight games will receive Korean, traditional Chinese, and simplified Chinese language support, expanded accessibility options, and a host of new cheat options, mixing up Shovel Knight's core platforming with the likes of rotating and wibbly-wobbly screen effects.
Moving on, Yacht Club has also shared word on new amiibo functionality coming to Nintendo platforms. All games will feature amiibo support, and players can unlock new costumes by scanning the existing Shovel Knight amiibo or upcoming Plague Knight, King Knight, and Spectre Knight amiibo. Costumes are cosmetic only, and can use mixed and matched with existing armour, or used in Showdown. Amiibos will also unlock new platform challenges in each game's Challenge Mode, and new fairy friends to accompany players on their retro-inspired adventures.
Last but not least on the announcement list is Shovel Knight Dig, a downward digging arcade game - in which players explore an "ever-changing chasm of mystery" - that's being jointly developed by Yacht Club and Nitrome. It's apparently been in the works for around a year now and still has "quite a way to go". Even so, you can get an early taste in the reveal trailer above.