Sea of Thieves' latest update offers a festive boost toward Pirate Legend (and beyond)
Ho ho ho and a bottle of rum.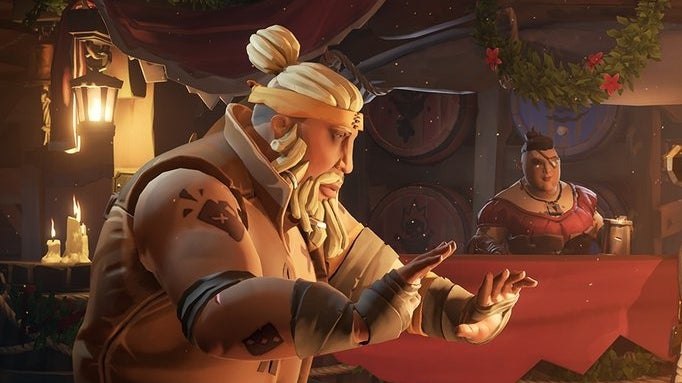 Rare has released a brand-new update for its multiplayer pirate extravaganza Sea of Thieves, primarily aimed at bug fixes for the recent Shrouded Spoils expansion. However, it's also managed to sneak in some seasonal treats too, just in time for Christmas.
Version 1.4.1, as the new update is known, keeps it subtle as far as the festivities goes, but players logging into the game will find a few welcome sprigs of holly at outposts, alongside some rather charming seasonal renditions of familiar shanties in the taverns.
That's lovely and all, but most players will likely be more interested in their special Christmas gift, which can be acquired by speaking to Bilge Rat representative Duke in any tavern. Pirates are then able to select a Gilded Voyage from Duke's stash, which, once undertaken, will grant a festive heap of gold and rep for the quest's aligned trading company.
Gilded Voyages should take an hour or two to complete (you'll need to do them in one sitting though, so plan ahead), and will reward predominantly high-tier items from your chosen faction's usual pool - so Gold Hoarders should expect plenty of Captain's Chests, for example.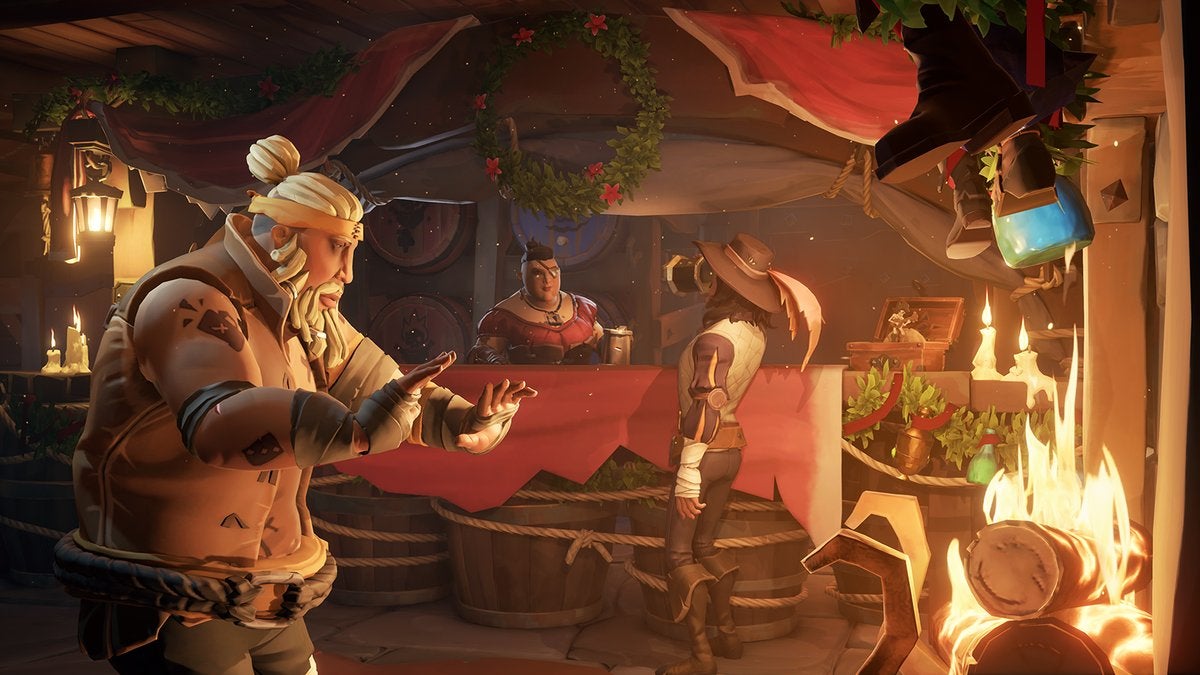 One other important thing to note is that players can only pick ONE Gilded Voyage, so be sure to choose carefully. Those that haven't reached Pirate Legend status will, for instance, likely want to boost a faction they're either lagging behind in, or simply don't enjoy so much. Pirate Legends, meanwhile, will want to focus their attention on the Athena Gilded Voyage.
It's also worth mentioning that Gilded Voyages work in the same way as their standard variants. That means all members of a ship's crew will reap the rewards as treasure is turned in. As such, it's technically possible to enjoy the benefits of multiple Gilded Voyages if each crew member places their own selection down and shares the wealth between their companions.
The remainder of today's Sea of Thieves update is predominantly focussed on bug fixes for Shrouded Spoils - which, incidentally, is well worth exploring if you've yet to give it a go.
Despite its relative lack of flashy new features, Shrouded Spoils is arguably Sea of Thieves' most significant update yet, and does tremendous work in fleshing out the core game and tying its disparate elements together. More importantly though, practically every type of emergent encounter now brings its own (often substantial) rewards, so there's far more incentive to engage with the world and actively seek out new dangers.
Plus, attempting to fend off a megalodon and a very angry skeleton ship with a dozen cannon balls, no bananas, and the rapidly-nearing menace of a zero-visibility fog bank while soloing a sloop is one of the more hilarious, nail-biting experiences I've had in a game this year.
Sea of Thieves' 1.4.1 update (full patch notes here) is the last to arrive in 2018, according to Rare. The game's next big expansion will come in the form of the PvP-focussed standalone mode, The Arena, due to launch at the start of next year.