Sea of Thieves boosting gold and rep rewards this weekend to celebrate first birthday
Plus, pre-release test programme now open to all.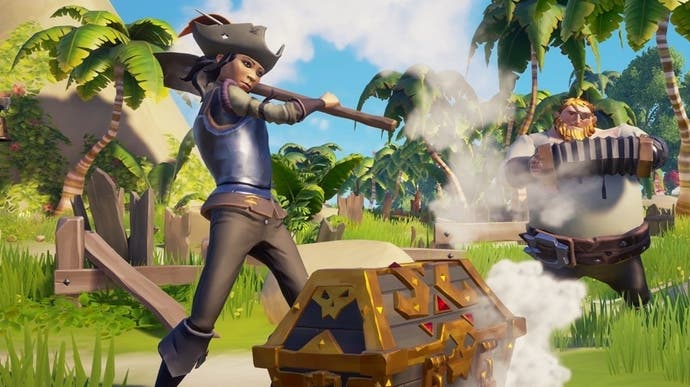 If you're on the final straight toward Pirate Legend, you may momentarily cease the chest-stashing, skeleton-bashing grind and rejoice: Sea of Thieves' inaugural Gold and Glory event unfolds this weekend, offering gold and reputation boosts as part of its first birthday celebrations.
The swashbuckling bonuses begin on Friday March 15th, at 11am in the UK, and reach their dramatic denouement at 11am on Monday, March 18th. For the duration, all Trading Companies will offer "far more" gold and reputation than usual, whenever turning in chests, skulls, animals and the like. It's unclear if this extends to the already bountiful Pirate Legend Athena Voyages, but I live in hope (because I recklessly spent all my gold on grubby orange sails and an aesthetically questionable belt in a feverish moment of post-grind euphoria).
And for those seasoned buccaneers hovering on the cusp of Pirate Legend, the Gold and Glory weekend might be doubly advantageous; Rare previously announced that it would be doling out a few little treats to those players that hit 50 in all Trading Companies and reach Legendary status prior to Sea of Thieves' first birthday on March 20th.
March 20th is also the day when Rare will be revealing full details of Sea of Thieves' long-teased mega-update. Previous chatter from the developer has confirmed the likes of pets and the new PvP-focussed Arena mode for the next update, with new lore-based questing, fishing, and cooking also heavily rumoured. We will know more next week!
In other Sea of Thieves news, Rare has, as previously promised, opened up its Pioneers initiative to all players, under the guise of Sea of Thieves' relaunched Insider Programme. Essentially, those that sign-up to participate will have access to the latest pre-release builds (under NDA) in order to trial-run new features and offer feedback. And in return, Rare says it will be handing out additional gold, Doubloons, and special in-game rewards. Full details on the Insider Programme are available elsewhere.
So that's everything! Enjoying your weekend's pirating and we'll reconvene here on March 20th for Sea of Thieves' full mega-update reveal (skeleton parrots, please Rare).