Sea of Thieves adding devastating Chain Shot cannonballs and new Tall Tale in March
Plus double XP and other rewards this weekend.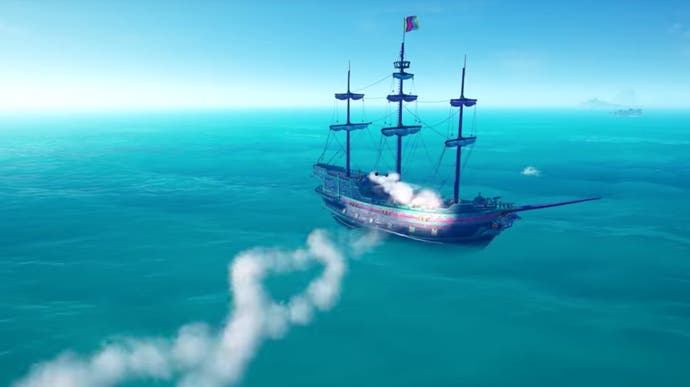 It's all go in the lead-up to Sea of Thieves' second anniversary next month. The two-week Hunter's Haul fishing challenge is currently underway, running in tandem with the Chests of Rage update, and Rare has now revealed a variety of activities scheduled for this weekend, as well as the devastating new Chain Shot cannonballs, coming to the game in March.
This Saturday, 29th February, Rare is celebrating 2020's "bonus" day with a special bonus event, rewarding double XP and gold in Adventure and Arena modes. It's also running two separate Twitch drops this weekend, and anyone that's linked their accounts will receive the Obsidian Fishing Rod and Ebon Flintlock on Saturday and Sunday respectively if they watch a partner stream (or, at the very least, leave one running in a background tab) for 30 minutes.
Rare's news trumpet has also blasted out a tease of some of the features arriving as part of Sea of Thieves' March update. One of these will take the form of a new Tall Tales story episode (presumably revolving around Captain Flameheart and the Masked Stranger, seeing as events in that particular storyline appear to have come to a head), and the other is the Chain Shot.
The Chain Shot is a new ammo type that can be loaded into a cannon and then launched at an opposing ship during competitive play. It won't do much damage to a hull, but it's devastating on specific ship parts, obliterating masts, wheel, and capstan in a single, well-aimed strike. It does, however, feature a much shorter range compared to other cannonballs, meaning that players will need to risk closer-quarters ship combat to make the most of it.
You can see the Chain Shot in action at the 2:25 mark in Rare's latest developer video above.
The new Tall Tale and Chain Shot will arrive as part of Sea of Thieves' next, currently unnamed update, which comes to Xbox One and PC on 11th March.