Rocket League is going full-on 80s in its Radical Summer event next week
Ghostbusters! Knight Rider! The Goonies! More!
Summer is (supposedly) upon us, and Rocket League is celebrating the season with a nostalgic trip back to the 80s - and a nine-week run of events and goodies, inspired by the era's most iconic movies and TV.
Developer Psyonix is calling its sun-bleached 80s event Radical Summer, and things get underway on Monday, 10th June. The focus is entirely on iconic movies until 1st July, with the highlight arguably being the arrival of Rocket League's new Ghostbusters Ecto-1 Car Pack. This introduces the Ghostbusters Ecto-1 Battle-Car, Ecto-1 Wheels, Proton Pack Boost, Slimer Topper, Ghostbusters Player Banner, Ghostbusters Avatar Border, and the Stay Puft Goal Explosion - all for an entirely reasonable $1.99 USD (likely to be around £1.69).
Players can also take part in online matches to earn Cassettes during the whole nine-week event, and these are used to unlock in-game items - inspired by the likes of Karate Kid, Back to the Future, ET, and The Goonies during movie weeks - in the Radical Summer Event Store.
Movie weeks also brings Radical Summer's first limited-time game mode, known as Ghost Hunt. It's a 3v3 affair, with competitors battling to successfully fire their proton streams to capture the ball and carry it to the opposing team's Containment Zone, where points await. All this unfolds in a specially spooked-up version of the Urban Central Arena.
From 1st July to 22nd July, movies make way for 80s culture, with new in-game items arriving in the Event Store. There's also a new "action-packed" game mode in the form of the 3v3 Spike Rush. This unfolds in the Throwback Stadium Arena, with all players receiving the Spike power-up from Rumble Mode, which can be activated to carry the ball up field.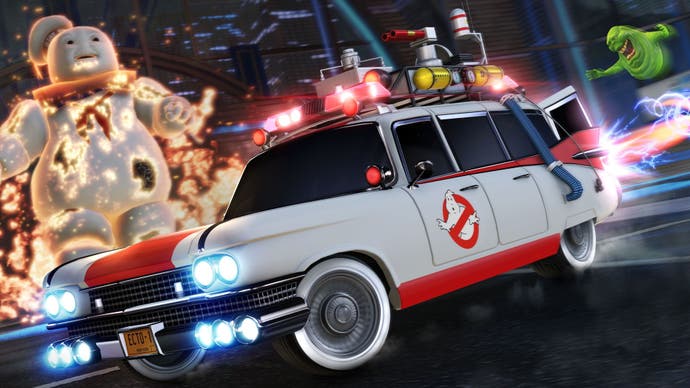 Then, from 22nd July to 12th August, it's the turn of classic 80s TV, and the arrival of the Knight Rider Car Pack. This will include everybody's favourite sassy talking car, K.I.T.T., with more elements of the DLC set to be revealed at a later date.
This final leg of the event will also usher in the limited-time Beach Ball game mode - a beach-volleyball-inspired 2v2 competition on Salty Shores, featuring low ball gravity and the Curveball mutator. Additionally, in-game items inspired by the likes of Voltron Legendary Defender and WWE will be flopping onto the virtual shelves of the Radical Summer Event Store.
Psyonix is preparing Rocket League for its nine-week, neon-hued adventure into the past via a game update arriving today on all platforms.