Rock Band keeps on rocking with new season pass
Don't Stop Believin'.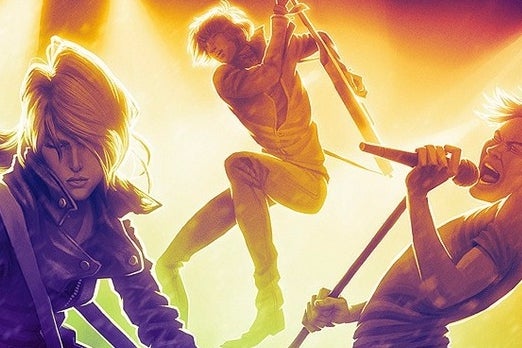 Rock Band is still alive and kickin', and is even getting a new season pass this month.
The Rock Band Season 2 Spotlight Pass will be available for the Rock Band Rivals expansion from 24th August and will run for the eight week duration of the season.
Having identified Rock Band's popularity with competitive players, developer Harmonix used Rock Band Rivals, Rock Band 4's most recent expansion, to focus on competitive play and is still riding that rockin' wave.
One of the features that keeps players coming back are the weekly challenges. Half the criteria challenges are graded on are Spotlight Songs. Each new set of Spotlight Songs features two tracks players already have as well as one newly-released DLC song, which players have to buy. Don't purchase the track, don't top the scoreboards - a prospect inconceivable to the most competitive players.
Keeping up is a costly endeavour. But Harmonix has decided to introduce a cheaper way to get these Spotlight Songs as Rock Band heads into season two. The Rock Band Season 2 Spotlight Pass lets players download all the songs featured as Spotlight Songs throughout Rock Band Rivals season two. That's eight songs for £10.99.
Typically Rock Band Rivals songs cost £1.69, so eight songs would cost £13.52. This means players would save £2.53 over the two months, but buying eight songs in one go is a gamble as players don't know what they're getting.
For those who play competitively, this will be a welcome addition. Players of Rock Band Rivals are known for compulsively buying songs in order to progress and that's what Harmonix is betting on.
In addition to this season pass, Rock Band has added new songs players can buy separately from the music store.
Here's the full list of new songs:
Arctic Horrors - "Black Seas" (Free DLC for Rock Band Rivals owners)
The Black Cheers - "(You're) Breakin' Up" (Free DLC for Rock Band Rivals owners)
Blondfire - "True Confessions"
Catfish And The Bottlemen - "Postpone"
Garbage - "Stupid Girl"
Parks - "Sweater Weather" (Free DLC for Rock Band Rivals owners)
The Shelters - "Rebel Heart"
Spirit Kid - "To My Romeo" (Free DLC for Rock Band Rivals owners)
Sugar Ray - "Every Morning"
Ted Nugent - "Stranglehold"