Remedy's new game is surreal supernatural shooter Control
Coming to PS4, Xbox One, and PC next year.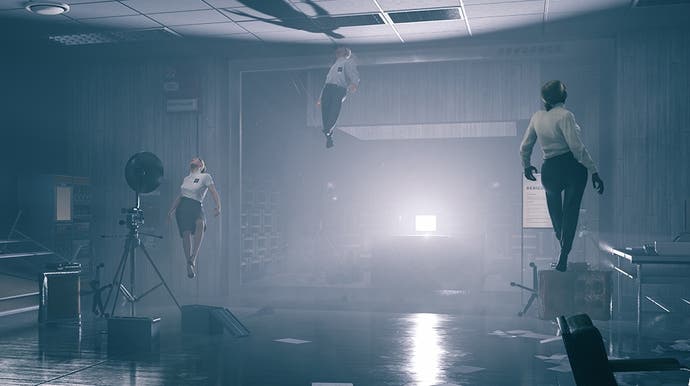 Remedy has unveiled its next game, Control - a rather surreal looking shooter that's coming to PlayStation 4, Xbox One, and PC next year.
As introduced by a guitar-playing banana at Sony's E3 showcase (unrelated), the brisk, largely inexplicable trailer sees an unnamed protagonist wandering through the constantly shifting innards of a very strange building - referred to as The Oldest House - walls ever-reshaping around her. "There are rules, and rituals," she explains, "you can keep travelling deeper".
Adding a bit of extra context, publisher 505 Games steps in, explaining, "After a secretive agency in New York is invaded by an otherworldly threat, you become the new Director struggling to regain Control."
What unfolds from there in the trailer is a visually striking and (speaking as someone who's a sucker for impossibly shifting video game spaces) immediately appealing montage of randomness, as the mysterious building constantly reconfigures itself while motionless bodies, drifting through the air - in a visual that recalls Silent Hill 4: The Room's most distinctive enemies - suddenly animate and attack.
The rest of the trailer consists of some rather more traditional third-person shooting combat, in which the protagonist uses what appear to be pyschic abilities to lob debris and random bits of scenery at her assailants - and, of course, this being a Remedy game, there're plenty of slow-mo moments as bullets fly and surfaces crumble in creeping explosions of concrete and glass.
Control, says 505, will "challenge you to master the combination of supernatural abilities, modifiable load-outs, and reactive environments while fighting through a deep and unpredictable world". If nothing else, I'm certainly intrigued!