Rayman Legends owners discover Vita version is missing 28 levels
UPDATE: Missing stages will be added as a free update.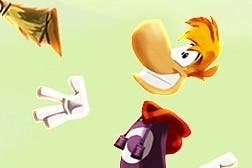 UPDATE: Ubisoft has clarified that the missing content in the Vita version of Rayman Legends will be added at a later date as a free patch.
"Due to a longer development time than expected, we couldn't initially include the Invasion Mode - essentially, a second take on existing Rayman Legends maps - in the Vita version of the game," said Ubisoft communications manager Gary Steinman in a comment on the publisher's blog. "However, we can confirm that the Invasion Mode will be added via a free patch, at a later date. With more than 100 levels, online co-op and challenges, Kung-Foot mini-game, five exclusive touch challenges developed specifically for the Vita and two exclusive costumes, Rayman Legends already includes a lot for customers to love, and features the same outstanding graphics and gameplay design as the home console versions."
ORIGINAL STORY: The PlayStation Vita edition of Rayman Legends is missing 28 levels present in the main console version, owners have discovered.
Ubisoft previously said that the handheld version would contain all of the original's content.
Vita owners found that Legends' rock-hard "Invasion" levels - remixes of already-completed courses with new layouts and hazards - were not included within the game.
The Vita version does include a handful of exclusive touch-controlled challenges, but less content overall.
The ommission reduces Legends' overall Lum total - the number of hidden collectible creatures that mark your progress through the game.
Console and PC versions include 700 Teensies, while the Vita version holds just 615, images posted to NeoGAF suggest.
"Rayman Legends on Vita includes all of the original Rayman Legends content, as well as five exclusive maps playable with Murphy, the greenbottle fly seen in previous Rayman games," Ubisoft said at the time of the Vita version's announcement.
We've contacted Ubisoft for an explanation and have asked if the content could be added at a later date.