PlayStation Plus' games for May include Rayman Legends and Beyond: Two Souls
French fancies.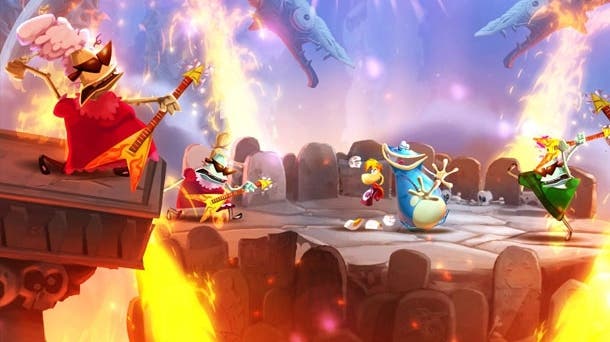 Sony has announced its eclectic PlayStation Plus games line-up for May, which includes Quantic Dreams' Beyond: Two Souls and Ubisoft's excellent Rayman Legends for PS4.
Beyond: Two Souls is Quantic Dreams' second PlayStation-exclusive offering, following on from 2010's compellingly ridiculous serial killer thriller Heavy Rain. It arrives on PS Plus in the same month that the studio's Detroit: Become Human hits PS4.
Beyond tells the story of Jodie Holmes, played by Ellen Page, as she navigates the perils and pitfalls of life - somewhat exacerbated by the fact that both local law enforcement and shadowy government agencies are on her tail, thanks to her inseparable supernatural chum Aiden.
"This is very much a game by the David Cage that made 2005's Fahrenheit", said Oli Welsh in his 6/10 review back in 2013, calling Beyond "doomy sci-fi with metaphysical pretensions and a slim grasp of logic, mixing very broad genre brushstrokes - explosions, mad scientists, spectral monsters - with simple domestic drama - teenage growing pains and office romance.
"Only this time, this mad pot pourri is made with Hollywood production values that extend to an actual Hollywood star and half a dozen action set-pieces that you'd sooner expect from a Naughty Dog game. It barely hangs together, but it can be a pretty entertaining mix."
PlayStation Plus' second PS4 offering this month is the thoroughly marvellous Rayman Legends - a 2D platformer that's as ceaselessly, wonderfully inventive as it is beautiful. Eurogamer contributor Dan Whitehead slapped a great gold Essential sticker on it in his review.
"The platform game has been around for so long that it's easy to assume that the genre has run out of surprises," he wrote. "A showcase for the game designer's art and one of the greatest platform games of this - or any - year, Rayman Legends disproves that in glorious style. From its gorgeous visuals to its painstaking design to its abundant generosity, it shows once and for all that "hardcore gaming" is about style, flair and good, old-fashioned challenge - not how many pixels of brain matter you can spray across the screen".
As for PlayStation 3, Plus' dual offering this month come in the form of entertaining, but rough-around-the-edges RPG Risen 3: Titan Lords, and developer FluffyLogic's Rampage spiritual successor, Eat Them - which Eurogamer called a "gleefully chaotic monster-stomper" in 2010.
Rounding things off in May are peculiar rock-tossing arcade experience King Oddball, and Lemmings-esque physics puzzler Furmins, both for PlayStation Vita.