Rare glimpse behind the game industry curtain reveals Epic paid £8.3m for Control
I got the Remedy.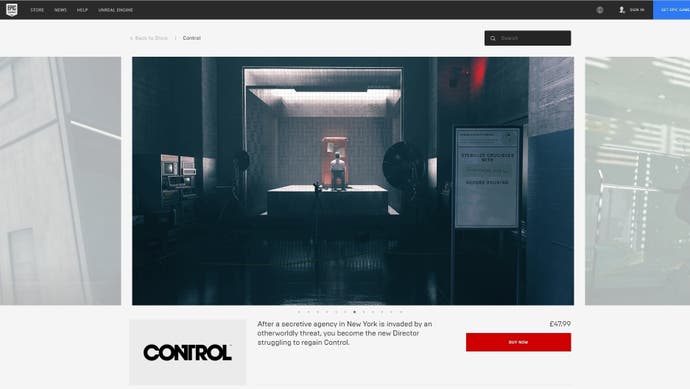 It's not often we learn the amount of money that changes hands as part of video game industry deals. But an Italian financial report has done just that for Epic's exclusivity deal for Remedy's Control.
The wonderfully-named Digital Bros, which is parent company of publisher 505 Games, issued a financial report for the year ending 30th June 2019 that revealed it earned €9.490 (£8.3m) from Epic.
As pointed out by Niko Partners analyst Daniel Ahmad on Twitter, this revenue is directly related to the PC version of Control.
Digital Bros, parent company of 505 Games, has disclosed that they received a payment of 9.49 million euro from Epic Games for Control.

Which I would imagine is for exclusivity.

55% of that payment going to 505 Games.

Report here: https://t.co/ocmbIQeOfJ

— Daniel Ahmad (@ZhugeEX) September 20, 2019
Here's the relevant paragraph, in Italian:
"I ricavi realizzati sul marketplace Epic Games sono relativi al riconoscimento dei ricavi derivanti dalla versione per personal computer del videogioco Control."
And here's some quickfire translation from Google:
"Revenues generated on the Epic Games marketplace relate to the recognition of revenues deriving from version for personal computer of the video game Control."
Elsewhere in the report, Digital Bros makes it clear the money made from Epic for the PC version of Control was for exclusivity (and that's why it realised the revenue before the launch of the game).
"Significativi sono stati i ricavi derivanti dalla versione per personal computer del videogioco Control. Si tratta di un prodotto sviluppato insieme alla società finlandese quotata sul Nasdaq First North, Remedy Entertainment. Il gioco nelle differenti versioni, per personal computer e per console, è stato lanciato il 27 agosto 2019, ma la struttura contrattuale con il marketplace digitale che ha richiesto l'esclusiva del videogioco della versione per personal computer ha permesso il riconoscimento dei ricavi già a partire da quest'esercizio."
Over to Google Translate:
"The revenues deriving from the personal computer version of the video game Control were significant. Yes it is a product developed together with the Finnish company listed on the Nasdaq First North, Remedy Entertainment. The game in different versions, for personal computers and consoles, was launched on the 27th August 2019, but the contractual structure with the digital marketplace that required the exclusivity of the video game of the personal computer version has allowed the recognition of revenues already starting from this exercise."
So, Digital Bros received £8.3m from Epic for exclusivity on its store. But what happened to that money? According to GameDaily.biz, which reported on details made public when 505 and Remedy announced their deal for what was then known as Project 7, 45 per cent of the funds went to 505, leaving 55 per cent for Remedy. That's €4.27m for 505 and €5.22m for Remedy.
These significant sums back up a recert assertion from Rebellion boss Jason Kingsley, who signed an exclusivity deal with Epic for the PC version of the upcoming Zombie Army 4.
"Generally I think I would prefer not to do exclusives but I understand Epic's position with it, and quite frankly they are paying through the nose to build their store," Kingsley said in a recent interview.
"All credit to them, it's fantastic, and we'll take some of their money, thank you very much."
According to Ooblets developer Glumberland, which also signed an exclusivity deal with Epic, these funds are considered an advance on the 88 per cent of sales revenue Epic gives to companies (compared to 70 per cent Valve gives to companies who sell on Steam). It's an effective guaranteed minimum on sales that, in Glumberland's case, amounted to what it would hope to earn if it was selling Ooblets across all the PC platforms.
Glumberland's Ben Wasser said: "That takes a huge burden of uncertainty off of us because now we know that no matter what, the game won't fail and we won't be forced to move back in with our parents (but we do love and appreciate you, parents!)."
Clearly, Epic's drive to make a success of its PC game store has annoyed plenty of Steam lovers, but it's boom time for the developers whose games are snapped up as exclusives. And it's easy to see why developers would play ball with Epic: money talks, after all. And with money comes security, financial well-being and for many developers mental well-being.
As for Epic, the Fortnite-fuelled gaming company has money to burn - and it's proven it's unafraid to spend big in the ongoing war with Valve for the hearts and minds - and money - of PC gamers.