Psyonix ends Rocket League support for Mac and Linux
Represents less than 0.3% of active player base.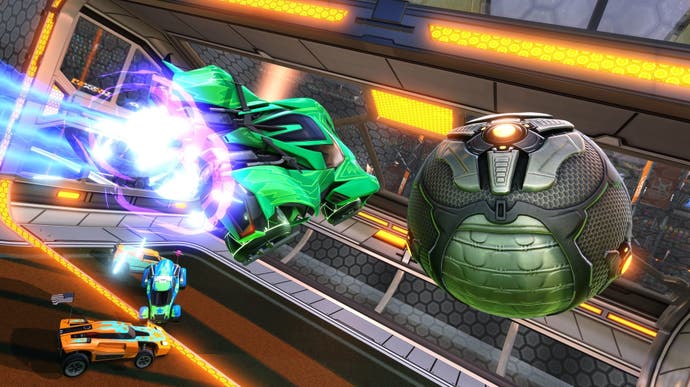 Psyonix has decided to end support for the Mac and Linux versions of Rocket League, saying both platforms combined represent a tiny percentage of its active player base.
After a final patch in March, online functionality will be deactivated for the macOS and Linux versions of the game, which means Mac and Linux players won't be able to play online multiplayer or access the in-game store. Offline features including local matches and splitscreen play will still be accessible.
In a post on the Rocket League subreddit, Psyonix community chief Devin Connors said the company couldn't justify the time and resources it would take to keep the game updated on Mac and Linux after it updates its Windows version from 32-bit to 64-bit, and to DirectX 11 from DirectX 9 later this year.
"There are multiple reasons for this change, but the primary one is that there are new types of content and features we'd like to develop, but cannot support on DirectX 9. This means when we fully release DX11 on Windows, we'll no longer support DX9 as it will be incompatible with future content," Connors explained.
"Unfortunately, our macOS and Linux native clients depend on our DX9 implementation for their OpenGL renderer to function. When we stop supporting DX9, those clients stop working. To keep these versions functional, we would need to invest significant additional time and resources in a replacement rendering pipeline such as Metal on macOS or Vulkan/OpenGL4 on Linux. We'd also need to invest perpetual support to ensure new content and releases work as intended on those replacement pipelines.
"The number of active players on macOS and Linux combined represents less than 0.3 per cent of our active player base. Given that, we cannot justify the additional and ongoing investment in developing native clients for those platforms, especially when viable workarounds exist like Bootcamp or Wine to keep those users playing."
Mac and Linux Rocket League players can continue playing by running the game on Windows, but Psyonix has said it does not officially support Apple's Boot Camp tool or Steam's Proton app or Wine. Essentially, these versions of the game are now dead. In that context, Psyonix has worked with Valve to ensure owners of the Mac or Linux versions can get a refund through Steam (Steam's normal refund policy has a two week purchase and/or two hours of play window). And while this wasn't working properly earlier this week, refunds should now go through.
Fortnite maker Epic bought Psyonix in May 2019, and so far Rocket League has yet to appear on the Epic Games store, while it remains up for sale on Steam. At the time, Epic said it would announce its long-term plans for the game at some point in the future.