Prison Architect developer session announced for Rezzed in July
Introversion's game also playable on the showfloor. Start of a week of announcements.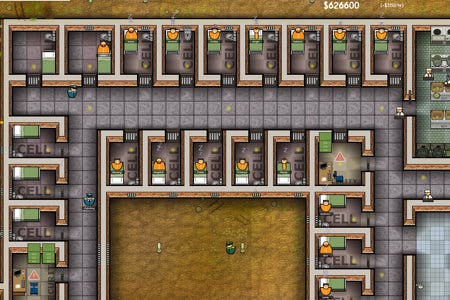 Introversion Software, the UK-based developer of PC classics Uplink, Defcon and Darwinia, will be delivering a presentation on its latest game, Prison Architect, at Rezzed next month.
The session will be known as "How Prison Architect rose, phoenix-like, from the still-smouldering ashes of Subversion". The game will also be playable on the show floor for all attendees.
Rezzed: The PC and Indie Games Show takes place at the Brighton Centre on Friday 6th and Saturday 7th July, and Introversion's developer session is currently set for 1pm on the Saturday.
"We're really looking forward to showing off Prison Architect to a wide audience - it's at a time when feedback from gamers will be really helpful," said Mark Morris, Introversion director and co-founder.
"We also think they'll be a lot of questions about what happened to Subversion and we want to clear it up once and for all!"
Introversion aren't the only people on the hook for a session at Rezzed, either. Stainless Games plans to talk about Carmageddon Reincarnation and Kickstarter development, while Creative Assembly has promised a first look at the future of Total War.
We also have a show floor of games to check out, including Borderlands 2 playable in the UK for the first time. 2K Games is also bringing a developer demo of XCOM: Enemy Unknown.
Other playable games unveiled so far include Aliens: Colonial Marines, Strike Suit Zero, Xenonauts, WarMage Battlegrounds and Stronghold Kingdoms.
We also have loads of other sessions and playable games still to announce, too, including some really big names, so watch out for those in the next few days as the countdown to the show continues.
Rezzed is organised by Eurogamer (hello!) and curated by us lot and Rock, Paper, Shotgun, so if you fancy meeting us and enjoying a couple of days of PC and indie games, head over to www.rezzed.com and pick up a ticket. It's £12 for a day or £20 for both.