Carmageddon developer Stainless Games to talk Kickstarter at Rezzed in July
Planning session on crowd-sourced development for PC and indie games show.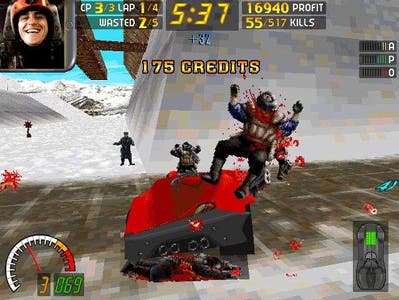 Carmageddon creator Stainless Games has signed up to speak at Rezzed: The PC and Indie Games Show this summer in Brighton.
Production director Ben Gunstone will recount, on stage and maybe in costume, the challenges his team faced when turning to Kickstarter to fund Carmageddon: Reincarnation.
His talk is on Friday 6th July. And by that time the Carmageddon: Reincarnation Kickstarter drive will have ended.
Chances of funding success? Pretty high. The PC/Mac project has raised nearly $300,000 of its $400,000 goal with 16 days to go.
"Talking at Rezzed brings us face to face with the PC and Indie gaming enthusiasts - the guys and girls who really matter," Stainless Games co-founder Neil Barnden commented.
"We have a thriving online community but there's nothing better than coming to an event like Rezzed where we can share our news and get direct feedback. We can't wait."
Rezzed: The PC and Indie Games show takes place on Friday 6th July and Saturday 7th July. The venue is the Brighton Centre, where I once watched Craig David, and there are 5000 PC-minded gamers expected to attend.
Tickets are £12 for the day or £20 for the weekend and available now at www.rezzedgameshow.com.
Games confirmed for the show floor so far include the just-delayed Aliens: Colonial Marines, and Introversion's intriguing Prison Architect. There will be many more.
Developers signed for sessions include Total War mastermind Creative Assembly and The Indie Stone, makers of Project Zomboid.
Rezzed is a game show organised by the people behind the Eurogamer Expo - that's us, Eurogamer, in case you're wondering.