Pre-release version of Call of Duty: Black Ops 4's first premium DLC leaks in Australia
And people are already running around the new maps.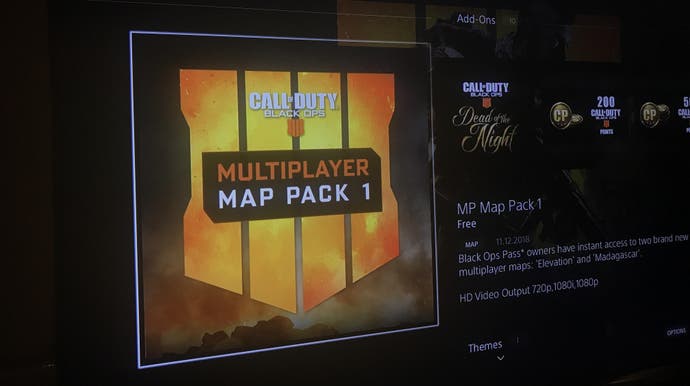 Call of Duty: Black Ops 4's first premium DLC has leaked.
THERE MAY BE SPOILERS AHEAD.
Overnight, Australian Call of Duty: Black Ops 4 players found they were able to access a developer build of Multiplayer Map Pack 1, which is a part of the controversial Black Ops Pass, from the PlayStation Store.
This includes two new multiplayer maps (yes, Call of Duty continues to split its userbase despite most other games doing the free map thing) called Elevation and Madagascar. Players have been able to load into these maps and run around.
Here's a video of Madagascar:
Here's a video of Elevation:
Also a part of Map Pack 1 is Dead of the Night, the new zombies experience. The opening cut scene for this has leaked online, and it reveals Kiefer Sutherland and Charles Dance are recreated in the game. In fact, the entire experience was pushed live early, and people have already put a few hours into it.
Dead of the Night looks a little rough in the leaked footage, which makes sense given what we have here is a pre-release version of the DLC. And it's surprising to see just two multiplayer maps included in DLC 1. Call of Duty premium DLC map packs traditionally include four multiplayer maps. Perhaps Activision plans on publishing more map packs more often for Black Ops 4.
Treyarch has acknowledged the leak in a tweet, promising "the real deal" is due out today, 11th December, alongside a new trailer. Did Activision plan a surprise launch of DLC 1 without any pre-release hype? If it did, well, the surprise has been ruined.
We're aware that some gameplay footage featuring pre-release versions of upcoming Black Ops Pass content has released in some regions a little earlier than planned.

The real deal arrives tomorrow, along with a new trailer, so stay tuned and stay spoiler-free out there.

— Treyarch Studios (@Treyarch) December 10, 2018
Expect more soon.