PlayStation 4 interface shown off in HD screenshots
Desktop! Profiles! Sharing! All on tablets/smartphones!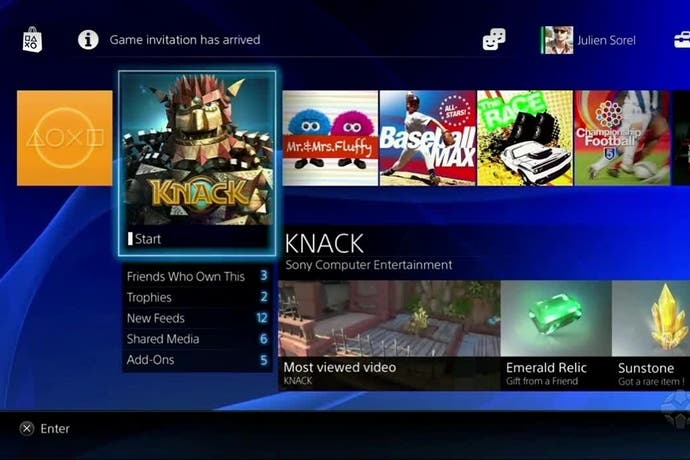 Sony has issued high-resolution images of the PlayStation 4 user interface, including its user profiles and Share functions.
The PS4 desktop lets you scroll through available games and apps, such as the console's music services and internet browser.
The profile screen shows a large photo of the user, along with options for text and voice chat, plus links to your recent activity, about me section and friends.
Trophies are given top billing underneath the users' full name and user ID. If a player is online you can watch a live stream of their game in progress, with the option to instantly join them in-game.
A Facebook-style feed of recent activity, including shared videos, lies below.
Speaking of sharing, the Share screen reveals the three ways you'll be able to show off the game you're playing: via a static screenshot, video clip or live video broadcast.
The images show how players will edit their video - by selecting start and end points via thumbnails and trimming accordingly. It all looks very straightforward.
A shot of the live streaming screen shows an in-progress game being broadcast live on Ustream, along with a live-cam thumbnail of the gamer in the bottom right corner and a comments feed for text chat with viewers.
Sony has also included screenshots of the above working on smartphone and tablet devices, presumably through PlayStation App. Sony announced the Xbox SmartGlass-style application last week during its PS4 conference. It will enable touchscreen-based devices to be used as a second control method.