Play The Division for free this weekend on PC, PS4, Xbox One
Infectious fun.
Ubisoft open world shooter The Division will be available to play for free this weekend on PC, PlayStation 4 and Xbox One.
All of the game's standard edition content will be playable for no charge - regardless of whether you're playing on your own, in co-op or in the player-versus-player Dark Zone.
In the UK, you can play on PS4 and Xbox One from 7am UTC (so, 8am BST) tomorrow, Friday 4th May, until the same time on Sunday. On PC, those times are 5pm UTC (so, 6pm BST) tomorrow until 8pm UTC (9pm BST) on Sunday. Times for other regions lie below: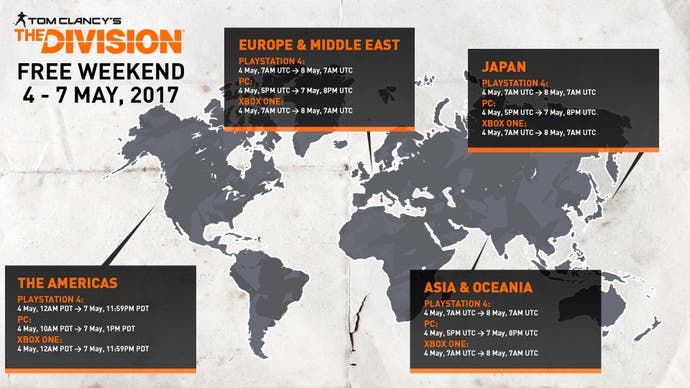 If you like what you play and want to pick up the full game, it will be on sale at a discount and any progress you make will carry over to your purchased copy.
Ubisoft will keep The Division supported with new content for the foreseeable future - two additional expansions are set to arrive this year for free, but it doesn't sound like there will be any new story content.