Xbox Game Pass adds Fallout 4, The Division and Elder Scrolls Online
Plus Halo Master Chief Collection later this year.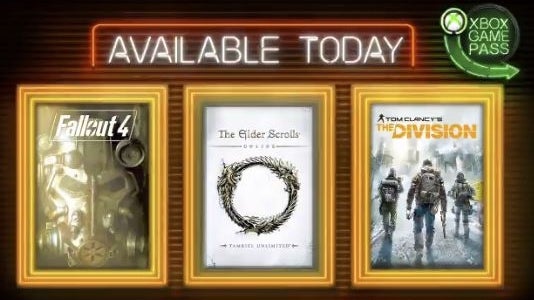 Microsoft has announced new games coming to its Xbox Game Pass subscription service during its E3 press conference - some of which are playable now.
Fallout 4 and The Division are now available following highlights of their respective followups - Fallout 76 and The Division 2 - as well as Elder Scrolls Online.
Microsoft also highlighted Forza Horizon 2 and the recently delayed Crackdown 2 will be available on the service when they launch. Third party games Ashen, Warhammer Vermintide, Phoenix Point and Afterparty will also be available day-in-date.
Finally, Microsoft also confirmed Halo Master Chief Collection is coming to the service later this year.
Elsewhere, the service will make use of FastStart technology, which uses machine learning techniques to help you play games from the service faster, starting with Xbox One's June update. It'll get better as algorithms are refined over time, too.