GTA Online's biggest unanswered questions: Outside Xbox investigates
Plus Assassin's Creed and Marlow Briggs.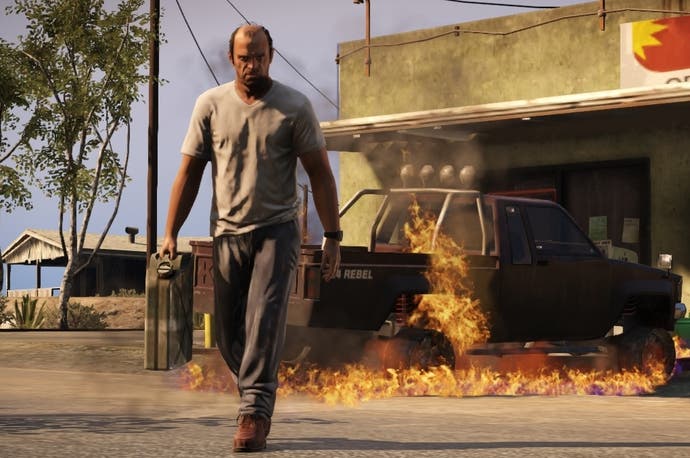 Hello Eurogamers. It's Eurogamer Expo week and as you read this, we're probably busy sprinting around the show floor playing games and chatting to developers. Keep an eye on Outside Xbox over the course of the weekend for more videos from the show as it happens and tune into our After Show Party livestreams at 7pm today and tomorrow.
If you have some irrational fear of videogame events (expophobia?), you could always watch Show of the Week which takes our other current obsession, Grand Theft Auto, as inspiration. More specifically, we investigate the highly anticipated Grand Theft Auto Online, which promises to obliterate whatever shreds of our social lives remain this coming Tuesday.
In between visits to Los Santos, we found time to try the XBLA game unfortunate enough to launch three days after GTA 5. That game is Marlow Briggs and the Mask of Death and it's surprisingly entertaining. Not because it's particularly good, but Marlow Briggs has an uncanny ability to explode everything he brushes past.
Finally, Andy spoke to Ubisoft Sofia about about Assassin's Creed Liberation HD. It's a game that was well received when it was released last year but likely missed a huge potential audience, owing to its status as a Playstation Vita exclusive. With an HD release on home consoles scheduled for 2014, plenty more people will get to try a game with an interesting variation on the Assassin's Creed theme.
That's it for this week. If you see us at the show today or tomorrow do say hello, and thank you to everyone who attended our live Spelunky Speed-run Spectacular. For more of this sort of thing, be sure to subscribe at www.youtube.com/outsidexbox. See you Outside!