Nintendo and Sega team up for Sonic: Lost World Zelda DLC
Goron and have a look.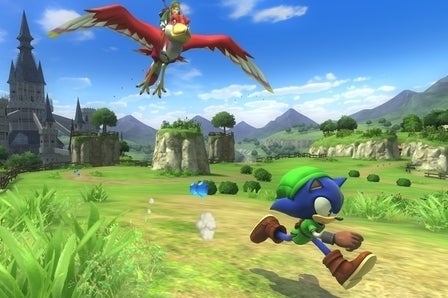 Sega's Mario Galaxy-inspired Wii U platformer Sonic: Lost World will tomorrow be expanded with yet more Nintendo nostalgia, in the new Legend of Zelda Zone DLC.
The add-on dresses Sonic in Link's iconic green garb and allows him free roam over parts of Hyrule, IGN reported. There you'll bump into Stalfos, Gorons and Cuccos, as well as spot Link riding his Loftwing from Skyward Sword.
The Legend of Zelda Zone has side-quests, familiar enemies and no time limit, allowing for extended exploration.
It's odd. It's really really odd. And it's available to download from the Wii U eShop for free from tomorrow.