Sonic game for PlayStation 4 and Xbox One spotted - report
UPDATE: Sega brands report "incorrect".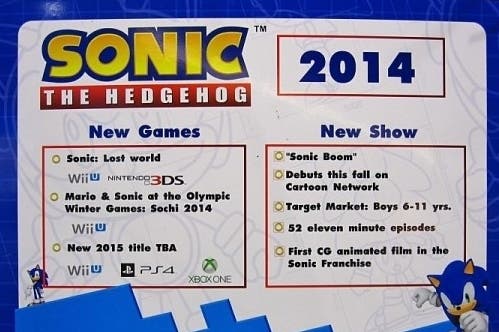 UPDATE 4/2/14 12.13PM: Sega has labelled "incorrect" a report which detailed an unannounced Sonic the Hedgehog game for PlayStation 4, Wii U and Xbox One.
The publisher said its was "yet to announce details" of Sonic's upcoming video game slate - although a third Nintendo-exclusive game was previously announced as part of the company's "Nintendo Sega alliance" deal.
"Sega is yet to announce details of upcoming console video games for Sonic the Hedgehog or further details regarding the new Sonic CG TV series," a spokesperson for the company told Eurogamer. "The recent information coming out of Nuremburg Toy Fair was incorrect.
"For official and up to date news regarding Sonic the Hedgehog please go to www.sonicthehedgehog.com or follow Sonic on Twitter (@sonic_hedgehog)."
ORIGINAL STORY 3/2/14 10.16AM: An unannounced Sonic the Hedgehog game is in development for PlayStation 4 and Xbox One, as well as Wii U, a new report suggests.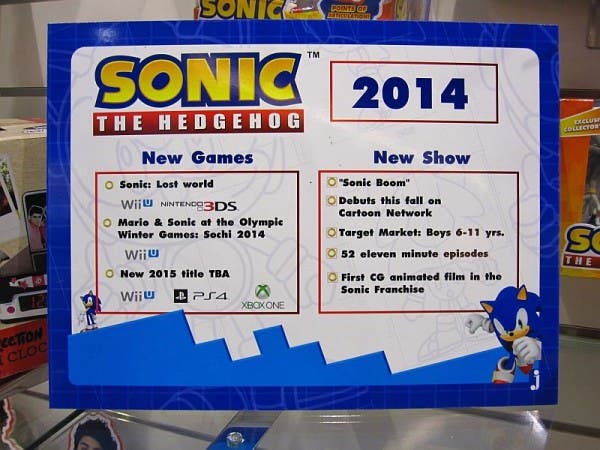 The untitled title was spotted on a product sheet for the Sonic franchise at last week's Nuremberg Toy Fair by Spindash (thanks, VG247) and is apparently due for release in 2015.
Sega previously announced it was working on another Nintendo-exclusive Sonic title - the final part of the publisher's three-game Sega Nintendo alliance deal which has so far comprised Sonic: Lost World and Mario & Sonic at the Winter Olympic Games: Sochi 2014.
There's no mention of the Nintendo-exclusive game on the franchise's roadmap - which raises questions as to whether the 2015 title is the same project, expanded to PS4 and Xbox One.
Wii U has seen a number of its exclusive games turned into multi-platform releases in response to the console's lacklustre sales.
The product sheet also contains new details of Sonic Boom, an upcoming 3D-animated TV series due to launch this autumn.
Sega declined to comment on the report when contacted by Eurogamer this morning.