Ignition to publish DS puzzler in Europe
Zoo Keeper involves moving animals around with the stylus to make lines of three and then "capture" them.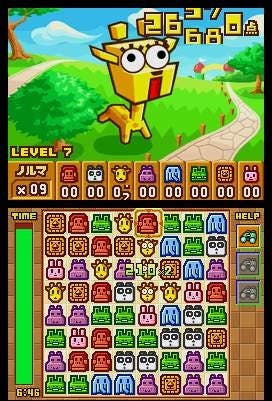 Ignition Entertainment has secured the European and North Americans to publish a Nintendo DS puzzle game called Zoo Keeper, which has been developed by SUCCESS Corporation, although unsurprisingly there's no word on when we'll get to play with it over here.
Zoo Keeper will be "one of the first Japanese launch titles" for the DS, and involves organising farmyard animals into lines of three or more of the same to "capture" them and clear space for more animals. Players will use the stylus to swap the positions of animals, although if you're expecting neatly drawn cows and sheep then you'll probably be disappointed; as you can see from the one screenshot released so far, Zoo Keeper is "stylised" to say the least.
According to Ignition, the game will feature a total of five modes of play (details frustratingly absent), and a wireless two-player mode that uses only one Zoo Keeper cartridge (or "Game Card" to use their terminology). It also promises a "highly relevant plot involving an actual zookeeper," although we're just mentioning that because it's mildly amusing.
As for the game, we look forward to trying it out, if only because it reminds us of Panel de Pon on the SNES. And because every handheld needs a decent puzzle game or two. We'll be sure to keep tabs on Zoo Keeper.