Tonight's Eurogamer Assetto Corsa Championship race is Mexico City
The second event kicks off tonight at 7.35pm UK - watch it here.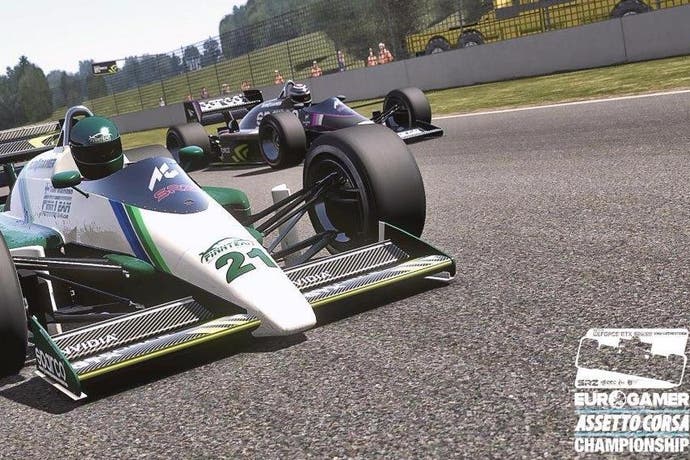 Last week's opening race of the Eurogamer Assetto Corsa Championship at Imola was pretty entertaining, despite two botched starts due to big pileups. The ensuing race was a cool display of skill from many drivers, in particular Hany Alsabti for his dominant win for the Thrustmaster Black team. Very solid, also, were Jackub Charkot of the Polish Ragnar Feeder Simulator team, who placed second, and Kamil Franzack's third place in the only Thrustmaster White car, subbing for the absent David Greco. (The Italian driver will be back at the wheel tonight.)
The race also saw great displays of skill from other drivers, like Arne Schoonvliet's amazing charge from the back of the grid after a poor start, but also a chain of mistakes from Thomas Tahtela who, after a blazing pole, wasn't consistent enough to pose a threat to the leading trio. There were excellent showings also from Luigi Di Lorenzo and Kevin Siggy, despite being victims of the chaotic start.
You'll find a recap of the Imola race during tonight's stream of the second round, with all highlights, the Sparco Show and the Nvidia Moment that will declare the best tactic and the most exciting overtake of the Italian Grand Prix.
Then you'll be ready for the main event, tonight's race on the Mexico City track. Watch it on Eurogamer Italy's Twitch channel tonight from 7.35pm UK time, 20:35 CET, on Twitch or in the below player. We will also restream the race on Eurogamer Italy's Facebook page. We hope you enjoy the broadcast - and catch you in a week's time for the next recap!