Assetto Corsa Competizione is the kind of racing game we haven't seen in far too long
Blancpain cheque.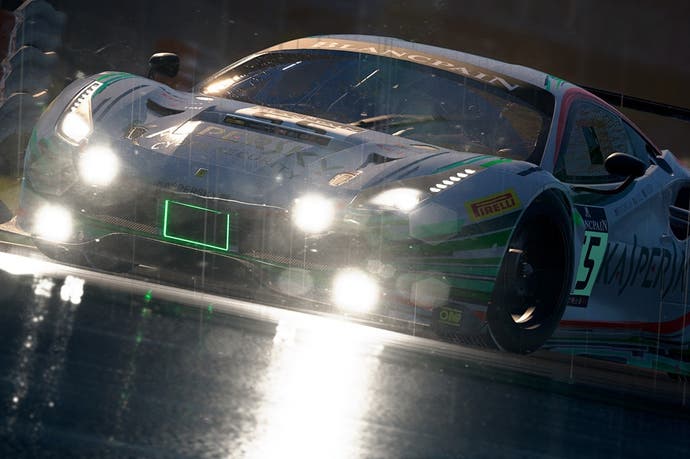 In an instant, it became my most anticipated game of 2018. Kunos Simulazioni, developers of the brilliant Assetto Corsa, had bagged the rights to the Blancpain GT series - perhaps motorsport's healthiest championship, and certainly one that boasts the most diverse manufacturer participation with Ferrari, Porsche, Lamborghini, Aston Martin, BMW, Mercedes, Bentley, Audi and McLaren all taking part. Not a bad list, really, and the racing's more than half decent too.
What is it that makes the prospect of Assetto Corsa Competizione, as the officially licensed game is to be called when it hits Early Access this summer, so exciting? It's a long overdue appearance of a game that represents real motorsport outside beyond the world of F1, and one that promises the kind of authenticity you just can't find anywhere else. I don't need detailed career modes, loot boxes full of car mods or pages of fictional emails to scroll through; just give me a season of real races against real teams and drivers run to real rules, governed by a simple points table, and you've got everything I need.
And in Assetto Corsa Competizione it looks like we're finally getting the successor to GTR 2 that I've pined for for years. Indeed, you've got to feel a little sorry for Simbin's UK studio that's quietly working on GTR 3 - a large part of the appeal of GTR 2 was how it co-opted the FIA GT Championship, starring the Spa 24 Hours as its centrepiece, and now Assetto Corsa Competizione is taking on that series' spiritual successor and getting Belgium's endurance classic to boot. The licence is a large part of the appeal, so there must have been some competition over it.
"It was a very delicate negotiation, so it was necessary to keep the utmost secrecy until all the pieces fell in place, and it was not easy because the management of many aspects related to licensing is now different from the past," Marco Massarutto told our friends over at Eurogamer Italy. "The SRO company that holds the rights for the Blancpain GT Series was more than happy to receive our proposal - they already knew Assetto Corsa and the idea to jointly produce an official video game based on their league intrigued them right away, but we weren't the only players in the negotiations."
The new licence - and the expectations that it brings - means an all-new Assetto Corsa, now built on Unreal Engine 4 which will help facilitate dynamic day/night transitions and weather; as you'd want for a game that looks to replicate the Spa 24 Hours, which despite its summer timing is always partial to a downpour or two.
"The UE4 particle system allows to efficiently simulate a large number of effects: from drops to rain spray, sparks, and more," Massarutto says of the upgrade. "Trees, vegetation and public will be animated and in 3D, which will make the racing environments much more alive and immersive. It is one of the features where we have changed our approach compared to the past, opting for the kind of "staging" that the public thinks can be found in a circuit and that derives mainly from what it's seen on TV during F1 and MotoGP races."
A lot of it's still up in the air - it's uncertain what size fields will be supported, with the engine still being optimised, and features such as VR and triple-screen support are still under evaluation. "Let's not forget that it is a constantly evolving engine and Epic is always very interested in keeping their software/hardware compatibility level the highest possible."
Likewise, console versions, while very much being factored into the designs, sound like they could be someway off - indeed, reading between the lines of Massarutto's answers, you might even have to wait until PlayStation 5 and the new Xbox to see them. The one thing you need to know right now, though, is that PC versions are very much the priority for the time being.
"We're developing the game with UE4, and that allows to port the game on different formats and also in terms of gameplay and user interface, we are developing AC Competizione meeting all requirements to be able to publish on consoles," Massarutto says. "With this in mind, the choice of which platforms will be supported and when is first of all a question of performance: once we will have reached the best optimisation we will be able to attain on PC, we will check if the current generation of consoles can guarantee the quality level we want to achieve for the console versions of Assetto Corsa Competizione."
Assetto Corsa Competizione is also, with any luck, going to benefit from a focus on more thoroughbred machinery - I still think the original Assetto Corsa's handling is best in class when it comes to road cars, though I'm not entirely convinced that's the case with its race cars (though it's not as if I have that much experience of driving the latter to make a fair assessment). The Blancpain field makes up their lap times in very different ways, too, so it's going to be interesting to see how Kunos brings each car's characteristics to the fore. Beyond that, there's a general overhaul of the handling that should benefit every car in the game.
"If you look at our development history, you will see that Ferrari Virtual Academy was an evolution of his predecessor netKar PRO, while there is a big generational gap between these two games and Assetto Corsa. With AC Competizione there will be another jump, in all respects. The physics will benefit from our past experience and a new approach on tire models and deformations, on transmission, suspension and aerodynamics that are all more in-depth and specific related to the sports series we are reproducing."
There's more that entails, too - driver swapping is in for the endurance races in both single-player and multiplayer - while the full calendar and team line-up is also going to make the cut (which means Zolder and Paul Ricard are to be added to Assetto Corsa's existing line-up - all of which are getting an overhaul in their move over to a new engine). It's nothing less than the official game of the Blancpain series - a simple prospect, but if all the pieces fall in place, it'll be nothing less than one of the most exciting racing game for years.