Monster Hunter World: Iceborne revisiting its three big limited-time events this month
One a week into September.
Monster Hunter World's superb Iceborne expansion is poised to mark its first birthday in September, and Capcom is celebrating the occasion by offering a chance to revisit its three previous limited-time seasonal events - ideal for newcomers and anyone that didn't manage to hoover up all the related rewards first time around.
Starting on August 21st, Iceborne players have a second chance to celebrate Monster Hunter World's Holiday Joy Fest. By completing its various limited-time quests, hunters can unlock the likes of the Oolong armour set, Lucky Crimson Tiger Pendant, and Shishi-mai Palico gear.
There's also the Mad Scavenger Pickaxe (actually a Long Sword), the Duffel Penguin Mask, and a giant flappy scarf known as the Sealed Dragon Cloth. Briskness is required, however, as the event will only be sticking around for about a week, wrapping up on 3rd September.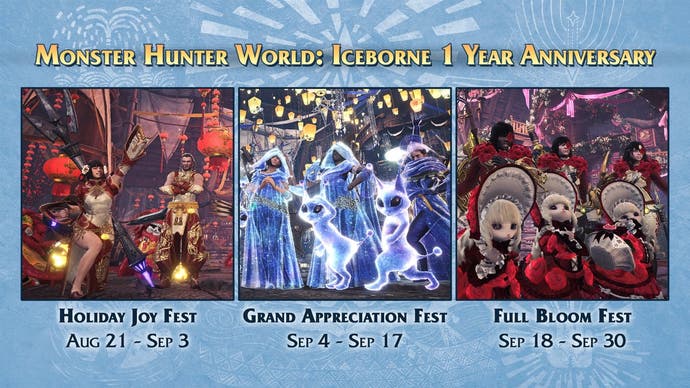 Don't expect much time to catch your breath, though; from 4th September until 17th September, Seliana's Gathering Hub will once again play host to the Grand Appreciation Fest. Assuming all is as before, unlockable items here include a handy range of Guild Palace weapons, the glitzy Astral α+ armour set, plus a variety of pendants and layered armour.
And then finally, from 18th-30th September, Seliana will be indulging its finest horticultural fancies, courtesy of the Full Bloom Fest. Rewards here include a special Poogie costume, some deeply eerie Palico gear, pendants, the Whetfish Dual Blades, and the delightfully silly Downy Crakes layered headgear. There's also the fancy Astral α+ armour set for those that like to look especially fetching while they bop fearsome monsters with their swords, tooters, and so on.
Capcom hasn't offered precise timings for any of these returning events yet, but it's worth keeping an eye on the official Monster Hunter Twitter feed for further details.