Marvel's Avengers has a set of skins for Virgin Media customers
Spider-LAN.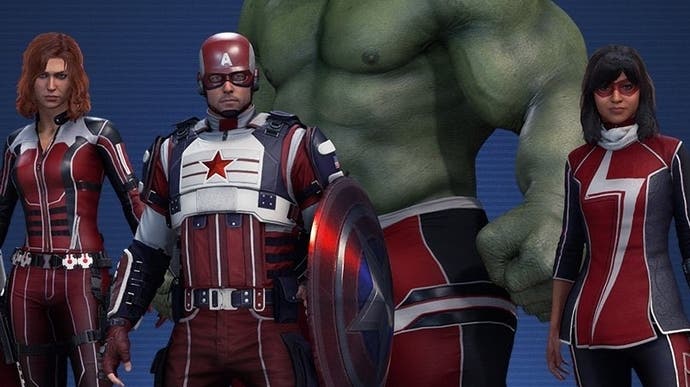 Marvel's Avengers will reward you with a set of cosmetic hero skins if you're a Virgin Media customer here in the UK. In the US, the items will also be available if you use mobile phone network Verizon.
A second set of cosmetics has also been found, apparently for release via a promotion with Intel. These seem more elaborate, and offer new clothing as well as a new colour scheme.
Twitter user PlayAvenger has been doing a good job rounding these up and you can see both sets in the post below. The Virgin Media skins are coloured red.
But that's not all - a further promotion is also available in the US within packs of 5Gum chewing gum. A variety of rewards are included - it sounds like you'll need to buy up to eight packs to get them all. Included in these are a nameplate, in-game currency and an emote for Kamala so she blows a bubblegum bubble.
And, of course, PlayStation owners will get Spider-Man and a set of themed missions as a console exclusive. In addition to the iconic web-swinging hero, PlayStation owners will also get exclusive community challenges and timed early access to other skins and rewards.
Some fans hoping to see Spider-Man appear on PC and Xbox versions of Marvel's Avengers have expressed disappointment in the hero's PlayStation exclusivity. IGN asked Scot Amos, boss of developer Crystal Dynamics, for his take:
"I would say that Marvel's Avengers has a lot of heroes, and with the scope and the breadth of this game and this universe, players are going to have their hands full with a lot to play with," Amos said. "And as we have just announced with Hawkeye, there are more heroes to come. So this is an opportunity to celebrate (Spider-Man's addition) uniquely for those players (on PlayStation) because of that relationship, but I think there's so much of a world for people to explore, I wouldn't look as that as a reason not to embrace it (the opportunity to add Spider-Man on PS4 and PS5). I would say, look at all this stuff you get to play with.
"And for those players who absolutely want to play as Spider-Man, you have the option to do so on PlayStation."