Lego NES leaks online, costs over £200
UPDATE: 8-brick console made official.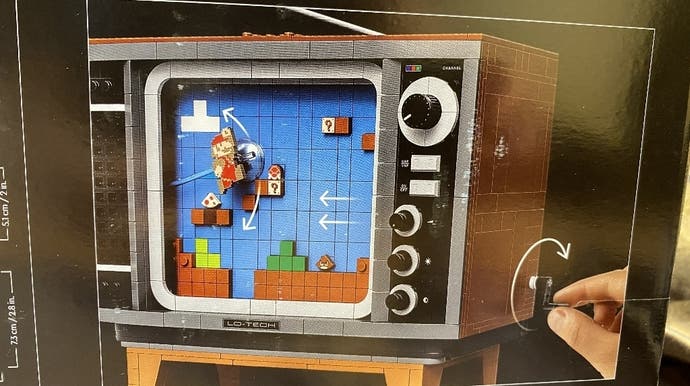 UPDATE 14/7/20: Lego has made its NES console set official, and given it a UK price of £209.99.
The 2646-piece set will launch on 1st August and is available to pre-order now via Lego.com.
The set includes the NES console and a gamepad, a NES cartridge for Super Mario Bros. and a retro TV where you can see the game being played. There's even a little handle you can crank to scroll the on-screen level forward.
Finally, a slot on top of the TV will let you plug in your Lego Super Mario base unit (sold separately) and have it recreate sounds from the game as you rotate the level.
Here's a look at all that in action:
---
ORIGINAL STORY 13/7/20: Take a look at this: a Lego NES.

A Chinese website called VJGamer published photos of the thing, showing how it comes with a little telly, controller and cart, with Super Mario Bros. played on-screen. There are 2646 pieces, including a crank attached to the side of the telly that makes Mario move and jump up and down.

German website StoneWars.de reports the landscape moves in the background, and the set can be combined with the Mario figure from the £50 Adventures with Mario Starter Course set to unlock additional functions, including the music. You put the Mario figure on top of the telly to do this.

https://twitter.com/Nibellion/status/1282637598901653510

It's cool, right? Be warned: it's super expensive. StoneWars reports it costs around 230 euros (£206). It's supposedly out 1st August.

Lego has yet to officially announce its NES set, but it just teased it on social media.

Expect more soon.