League of Legends' virtual girl band K/DA manages to top Billboard's world music charts
60 million YouTube views and counting.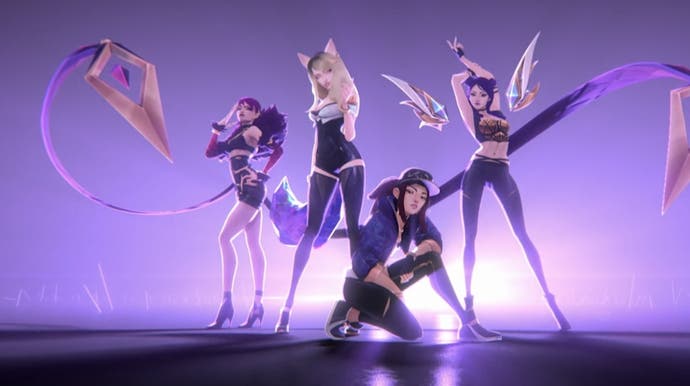 A few weeks ago, developer Riot Games unleashed the latest weapon in its incredibly well-financed marketing arsenal: a three-minute music video for POP/STARS, a song performed by a fictitious girl band consisting of four of the most popular characters in League of Legends. That track has now managed to secure the top spot on Billboard's World Digital Song Sales charts.
POP/STARS is performed by K/DA, a band which, in the virtual world at least, consists of League of Legends characters Ahri, Evelynn, Kai'Sa, and Akali. In reality, however, their vocals are provided by a cross-continental line-up of accomplished music stars: US-based Madison Beer and Jaira Burns, and Miyeon and Soyeon from K-pop girl group (G)I-DLE.
As compiled by Nielsen Music and reported by Billboard, POP/STARS managed to sell 9,000 copies in the week ending November 8th. That might sound faintly preposterous for a fake band rustled up to promote some video game cosmetics - but it all becomes a little clearer once you actually watch the accompanying music video.
For starters, it's a wonderfully slick production, and a striking achievement by all the artists and animators involved. Then there's the simple fact that the song itself - credited to Harloe - is an absolute belter, video game promotional tool or otherwise. Which might explain how it's managed to amass nearly 60.5 million views on YouTube since its release on November 3rd.
You can see the virtual K/DA strutting its stuff in the video above, and you can watch POP/STARS' real-life stars performing the song (along with some slightly creepy AR accompaniment) below, recorded during the recent League of Legends World Championship opening ceremony in Incheon, South Korea. That one's at 10 million views and counting.
Billboard also notes that POP/STARS managed to debut at number 10 in its Pop Digital Song Sales charts, and at number 30 in its overall Digital Song Sales charts. It doesn't seem to be barnstorming quite as hard in the UK, however; it's currently only number 75 on the official digital download singles charts here.