Knuckles, Shadow and Big the Cat shown in Sonic's Lego Dimensions level
Traveller's Tails.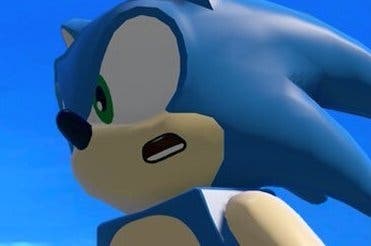 We already knew Sonic the Hedgehog would join Lego Dimensions this November - but we hadn't seen everyone he was bringing along for the ride.
Sidekicks and sometimes rivals Tails, Knuckles, Shadow and Big the Cat are all getting digital Lego versions of themselves.
(Sorry, Amy Rose fans. No sign of yet.)
Dimensions' Sonic set includes a minifigure of Sega's classic hero and unlocks a level and open world hub to explore - it's here his pals will feature.
Big the Cat, especially, is a bit of surprise. He's big and a cat and a bit of a joke among Sonic fans, which is a shame (what has he ever done to you, eh?). There was word he had been officially retired from future Sonic games due to the negative fan reaction to him, although he has sporadically popped up in cameo roles.
Sonic's pack arrives for Lego Dimensions on 18th November along with other packs based on Fantastic Beasts, Knight Rider, Adventure Time ET and Gremlins.