Just Cause 3 has finally been officially announced
UPDATE: Won't be free-to-play or contain micro-transactions.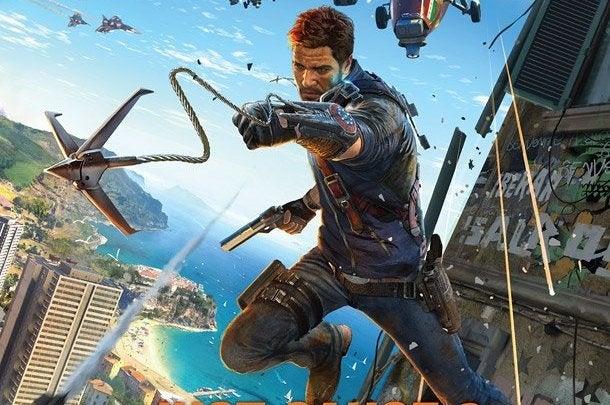 UPDATE 11/11/2014 10.17pm: Just Cause 3 won't be free-to-play or contain micro-transactions, developer Avalanche Studios has confirmed.
Early leaked screenshots suggested otherwise, but Avalanche co-founder and chief creative officer Christofer Sundberg explained that those were early prototypes and not indicative of what the final product will be.
"Those leaked screenshots were taken from an ancient version of Just Cause 3," he said on the official Avalanche blog. "Like most games, this one went through an exploratory phase where we looked at different control schemes, different technologies, different business models. Those leaked screenshots show aspects of that process, and in no way reflect the game we are making today."
"It will be distributed as a retail box and digital download. It is not a Free To Play game. It does not feature in-game micro-transactions."
"Does that mean we'll release the game and call it quits? Nope," he added. "Beyond launch, we are likely to look into DLC packs and items as part of our ambition to support Just Cause 3 and its players for many years to come, but until that time we're completely focused on making the best Just Cause game we possibly can. Rest assured it will be a huge, fully packed and extremely rewarding experience right out of the gate."
ORIGINAL STORY 11/11/2014 5.21pm: Just Cause 3 has finally been revealed by Avalanche Studios, four years after Just Cause 2 hit the scene.
As revealed by Game Informer, the open-world shooter is due in 2015 on PS4, Xbox One and PC.
Here's what we know: It's set in a fictitious Mediterranean archipelago, the grappling hook and parachute make a return (with "vastly improved" mechanics), and there's even a new wingsuit.
You'll still play as Rico Rodriguez.
Just Cause 2 went on to sell six million copies across PS3, Xbox 360 and PC, where it had a thriving community that added a multiplayer mod.
The Swedish developer set up a New York studio for Just Cause 2, but the company is also working on a Mad Max game, which is likewise set for release next year. It looked pretty rad when I previewed it at E3 2013..