It's Fallout 4 launch day and for many GAME still hasn't delivered
UPDATE: "There will be a short delay," GAME warns.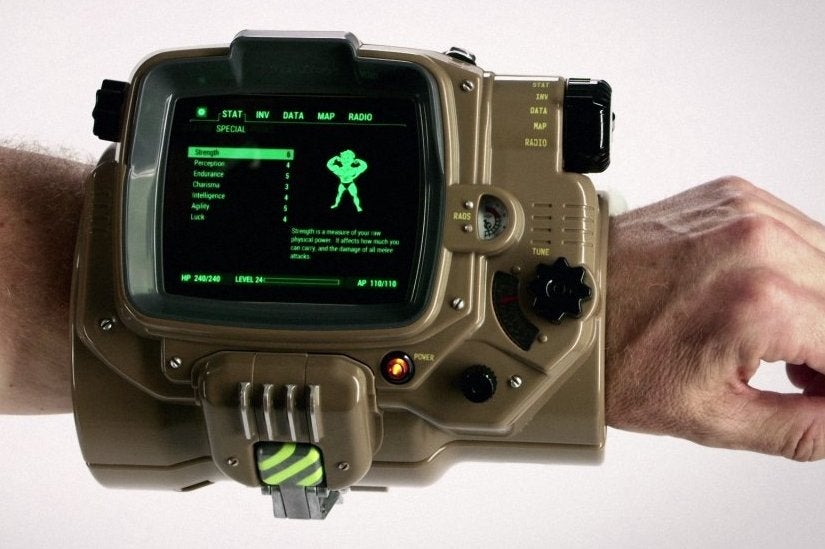 UPDATE 1.10PM: GAME has issued a statement apologising for the continued wait for some Fallout 4 Pip-Boy Edition customers, and warned of a "short delay" before all orders find their rightful owners.
There's mention, too, of the reason that orders failed - due to banks and PayPal accounts not accepting payment to be taken, despite many customers insisting that their details had not changed.
Here's the statement in full:
"On Friday, a small number of our customers who pre-ordered the Fallout 4 Pip-Boy Edition online experienced payment issues which has resulted in reports of orders not being fulfilled.
"GAME can confirm that these payment issues were not caused by our systems, and instead arose due to customers' banks or PayPal accounts not allowing payment to go through. This is mainly caused by expired bank account details.
"At every stage, we have reassured our customers that their Pip-Boys have been reserved for them. Since Friday, our customer service team has been working hard to contact all impacted customers to ensure that as many orders as possible are fulfilled for launch day. Each customer has been, or will be, contacted individually to reprocess their order and we have extended the opening hours of our distribution centre and customer services to facilitate this.
"We have endeavoured to deliver all pre-orders in time for launch day. Getting in touch with customers individually takes time, and due to us being unable to outreach to some customers just yet, there will be a short delay for a few of them but they will still receive their order should they still wish.
"Our customers are incredibly important to us and we'd like to thank them for their continued patience."
ORIGINAL STORY 9.20AM: Fallout 4 launches worldwide today, but many GAME customers won't be playing.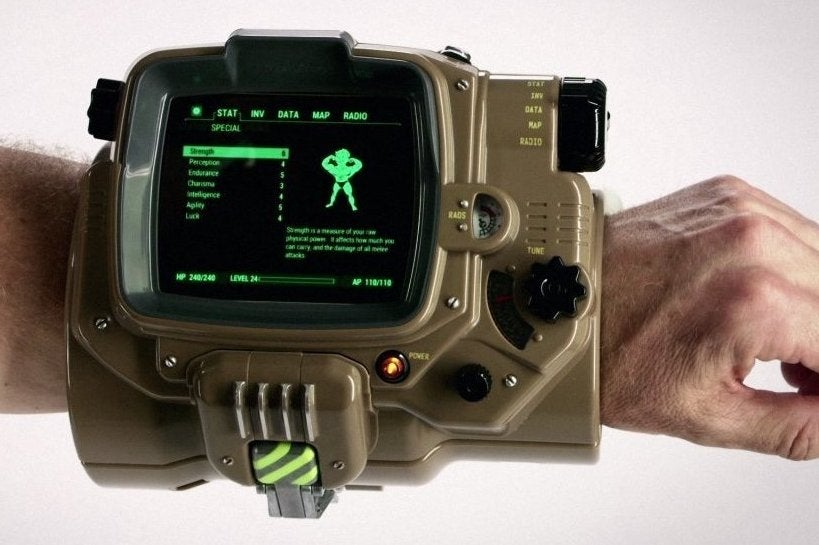 The retailer has, predictably, failed to contact some of the customers whose £99 Fallout 4 Pip-Boy Edition orders it has still been unable to fulfill.
GAME has blamed banks and PayPal for its payment problems, which the chain informed customers about just four days ago. Many orders were placed back in June, when GAME was announced as the UK-exclusive retailer for the Fallout 4 special edition.
Last Friday, customers were told to email GAME back and arrange a phone call with the retailer so it could organise a new order.
"Please note, if you would like your order on release day we will need you to contact us before 12:00pm on Monday 9th November," customers were told.
But at nearly 9pm last night, three hours before the game went onsale at midnight, GAME issued the following statement on its Facebook page admitting that it would not be able to fulfill orders of those it had failed to call in time.
The email to customers, shared with Eurogamer by readers that continue to be affected by the problem, says much the same.
"If we haven't heard from you or haven't been able to speak to you by telephone sadly it is now too late for you to receive your Fallout 4 Pip-Boy Edition on release day," GAME wrote.
"But we are working extremely hard to contact you to re-place your order as soon as possible."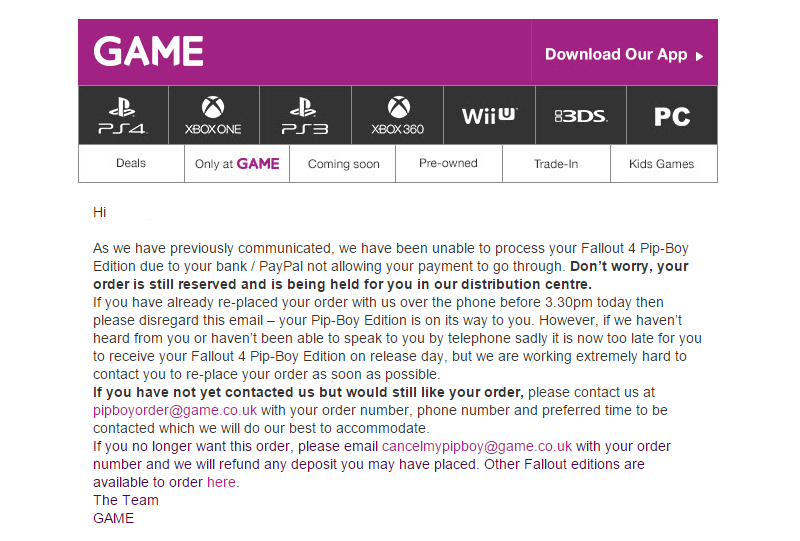 However, many customers continue to experience problems with their orders. Here's a sample of comments from GAME's Facebook page:
"What a load of crap. I was phoned earlier today, and I gave them my current card information (the same info they ALREADY HAVE!) and I received the order confirmation email... 30 minutes later my order was cancelled, AGAIN... I phoned my bank and they confirmed to me that GAME never even attempted to take the payment. Seriously, what in the flying feather are you playing at?"
And another:
"My daughter contacted her bank, who said no attempt had been made to collect the payment. She has tried to contact you numerous time by phone, live chat and e-mail. You have failed to respond despite assuring her you would do so. It would appear that GAME has the issue with being unable to tell truth from lies."
And another:
"I'll be at work all day and unable to take a phonecall.... So how will they resolve that!?"
Eurogamer has been trying to find out exactly what went wrong since last Friday, but GAME has not been able to shed any more light or offer any idea as to when everyone who ordered will get their copy of the game.
Never fear, though. GAME Halifax has a couple going in store. #firstcomefirstserved