It looks like a mocap actor has revealed Watch Dogs 2's new protagonist
And the surveillance says...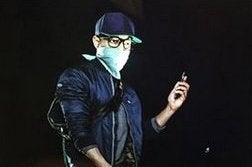 An LA-based motion capture actor has apparently spilled the beans on Watch Dogs 2's protagonist.
The new lead character for Ubisoft's series was seemingly posted on Instagram back in April. The picture came from an actor who claimed he had just finished portraying the protagonist.
The image lay online, unnoticed, until it was spotted by NerdLeaks. This week, after the internet took notice, the image promptly disappeared from view. Within hours, and likely after a stern word from Ubisoft's lawyers, the Instagram account had been set to private.
But you can still see the account via Google's cached version.
Ubisoft is yet to announce any details of Watch Dogs 2, and has only said it will launch before March 2017. Our guess would be that it will fill the usual Assassin's Creed late October slot. Other leaks have pegged it as having a San Francisco setting and a new morality system.
We'll likely hear more next month at E3.
It's little surprise that Watch Dogs 2 will star a new protagonist. The original game boasted some impressive open world gameplay, although its story and characters were probably the game's weakest elements.
Ubisoft declined to comment when approached by Eurogamer for this story.