Horizon Zero Dawn Frozen Wilds walkthrough and guide - how to start the Horizon DLC, level requirement, new features, and more
Everything you need to know about Horizon Zero Dawn's shiny new DLC.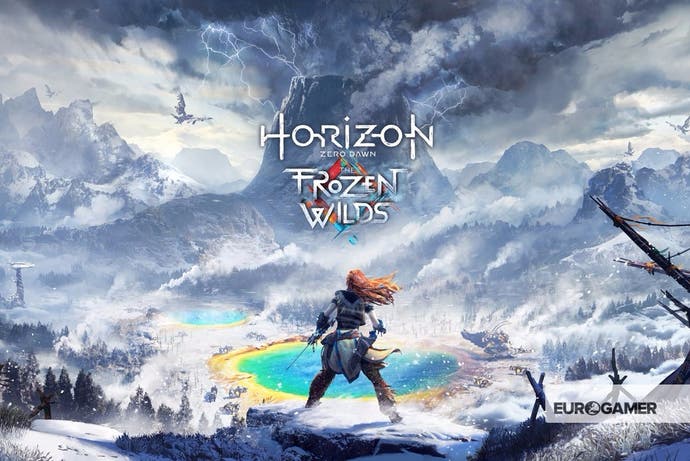 Horizon Zero Dawn's Frozen Wilds is the first Horizon DLC, bringing with it a wealth of new content for the much-loved dino-robo-futurist adventure.
This page will act as a hub for our central Horizo Zero Dawn Frozen Wilds guide, where we'll also add a full contents list for our Frozen Wilds walkthrough, and explain everything you need to know about Frozen Wilds' new features, skills, and more.
You're already in the right place then for everything on the Frozen Wilds DLC, but for more guides on Horizon in general, it's worth giving our main Horizon Zero Dawn guide and walkthrough a proper look over.
How to start the Horizon Frozen Wilds DLC and what is the Frozen Wilds level requirement
Thankfully, it's a pretty simple process to start the Frozen Wilds DLC.
Once it's downloaded and installed, simply load up your game and continue where you left off. Downloading the DLC simply makes the new questline, and the associated area and sidequests, available to you.
There are a couple of in-game requirements that need to be fulfilled before that first quest becomes available: you'll need to complete the main story quest A Seeker at the Gates, which is the one that opens up the world for you, and it's suggested - albeit not required - that you're around level 30 before you try it.
When you're ready, go and talk to a guy called Ohtur, who's in the Daytower Fort (a settlement that's almost dead centre on the map) and is a little worried about trouble in Banuk lands - you can just wander into the DLC area by yourself, but it's always nice to have a little waypoint to direct you along the way.
Ohtur give you the quest Into the Frozen Wilds, which tells you to simply 'explore The Cut' - the northernmost area that's newly unlocked with the DLC, and looks a bit like Scotland tacked on at the top of the map.
When you get there - it's a bit of a trek, right up to the Grave Hoard - you'll spot a new climbing route up the clifface, near a kind of glowing blue crystal. Follow that up, and you're into the Frozen Wilds DLC!
Horizon: The Frozen Wilds walkthrough and guide
Our complete Frozen Wilds main story walkthrough is what you'll find here, whilst all of our individual gudies are listed just below. We also recommend taking a look out our main Horizon Zero Dawn guide though, particularly for pages like our guide to how to find the Power Cells and get the Shield Weave armour (trust us when we say you're probably going to need it).
Horizon Zero Dawn: The Frozen Wilds Walkthrough:
Horizon Zero Dawn Frozen Wilds Guides:
---
For more tips, explainers and advice on Horizon be sure to check out our main Horizon Zero Dawn guide and walkthrough hub, which includes advice for things like Horizon Zero Dawn's override Cauldrons and which machines they let you control, getting hold of the Golden Fast Travel Pack for unlimited fast travel, finding and unlocking the very powerful Horizon Zero Dawn Shield Weave Armour and Power Cell locations, and then for DLC players there's our main Horizon Zero Dawn Frozen Wilds walkthrough and guide, a page on how to earn Bluegleam quickly, and finally, a page on the handy A Secret Shared quest and how to upgrade your spear in Horizon Frozen Wilds.
---
Frozen Wilds new features explained
Despite the lack of any defining overhaul that we've come to expect from expansion-style DLC packs such as this, the Frozen Wilds does still have a nice suite of new features and things to do.
Horizon Zero Dawn the Frozen Wilds new features:
New robo-dino-creatures! - Similarly to the DLC itself, in a weirdly ironic way, Horizon doesn't really have a distinguishing feature. But it does have some cool, good-looking stuff in it, and coolest and most good-looking of all are its robotic dinosaur creatures. There are five new kinds in the DLC, although we won't spoil exactly what they are right here.
Control Towers - As well as the control tower-like Tallnecks, the Frozen Wilds DLC now has actual Control Towers, which disable your mounts and any controlled machines in a large radius nearby. You'll need to prioritise those if you come across one, as they can be a real inconvenience if left standing.
A new currency - Blue Gleam, not to be confused with that blue, gleaming Glimmer of Destiny 2, is the new currency in the Frozen Wilds. It's a rare and valuable resource, letting you buy some unique, high-powered weapons from a travelling merchant in-game.
A new area on the map - It's fairly obvious, but the Frozen Wilds focuses on an entirely new area, The Cut, right in the north of the map, past the Grave Hoard. It's a decent chunk of land, and beautifully frosty, so well worth an explore even when you're not ploughing through new content.
A new branch of skills - The skill tree now has four branches instead of three, with the new Traveler branch focusing on mounted travel and resources. Skills grant things like the ability to forage plants from atop your mount, heal your mount with shards, or increase resource-carrying capacity.
A new story and sidequests - What would an open world action-adventure be without little explamation points on a map?! The Frozen Wilds does, of course, add in a good ten hours of new story focusing on the Banuk, plus numerous sidequests with far more interesting rewards than those in the base game. Keep an eye out for guides to acquiring special weapons and items as we get more time with the game...