Horizon Frozen Wilds Bluegleam - how to get Bluegleam easily in the Horizon DLC
Our guide to The Frozen Wilds' new form of currency.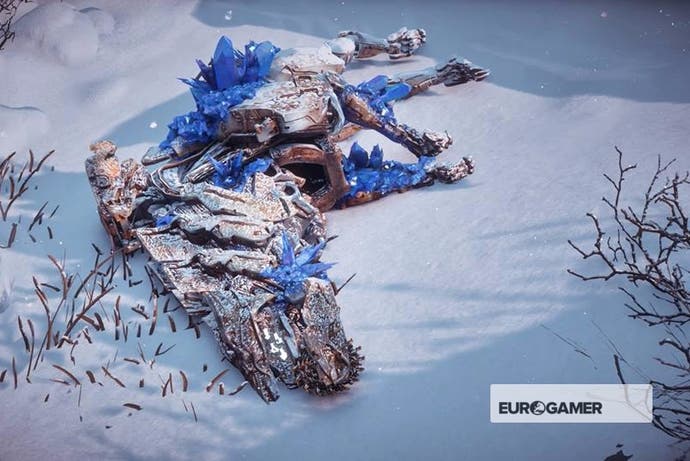 Bluegleam is frozen machine fluid used as a new form of currency, alongside metal shards, in Horizon Zero Dawn's The Frozen Wilds DLC. Bluegleam is very rare and can be traded with special merchants, indicated by blue antlers, for powerful new weapons, Banuk boxes or outfits.
The in-game blurb for Bluegleam describes it as "a precious blue-tinted crystal, valuable to merchants," but of course what you care about is how to get Bluegleam itself - seeing as it's the stuff you buy with it that really counts. With that in mind, here's everything we know on the new, blue, currency.
For more on the Horizon expansion, meanwhile, it's worth cycling back to our main Horizon Zero Dawn Frozen Wilds guide, or further still to our Horizon Zero Dawn walkthrough and guide hub.
What Bluegleam is used for in Horizon Zero Dawn: The Frozen Wilds
Bluegleam is used to purchase powerful new weapons and armour as well as Banuk boxes, which contain unknown items, from special merchants including the following:
Carja Blazon Master
Banuk Ice Hunter Master
Nora Silent Hunter Master
Banuk Striker Bow
Banuk Champion Bow
Banuk Powershot Bow
Banuk Tundra Box
Banuk Snowfall Box
Banuk Nesting Box
Banuk Glacier Box
Banuk Gambler's Box
These new bows deal increased damage over other bows and are useful against new, more dangerous machines. So it is recommended to collect as much Bluegleam as possible early on in the DLC, to purchase these weapons.
Though Bluegleam has been introduced as a new currency, it is only used to buy special Banuk items in The Cut and trading must take place with a special merchant. In other regions, and for other items, metal shards are still required.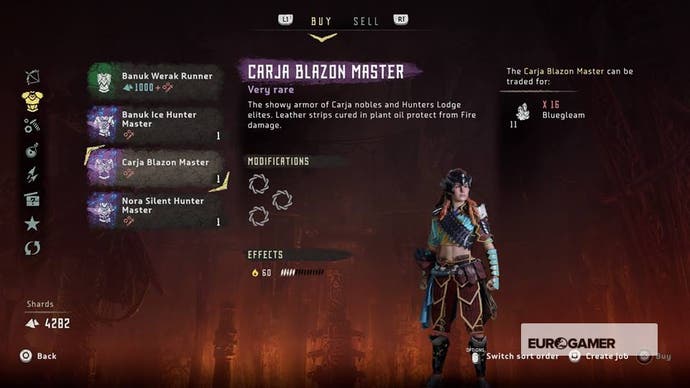 How to get Bluegleam
Bluegleam can either be gathered from the environment or earned as a reward through quests.
Bluegleam can be harvested throughout The Cut and looks like a large blue crystal, however it seems it can only be taken once per source. Typically it is found high up on mountains but, if you can't be bothered to search for it, special merchants sell a Bluegleam Map which hints at the location of all Bluegleam spots in The Cut.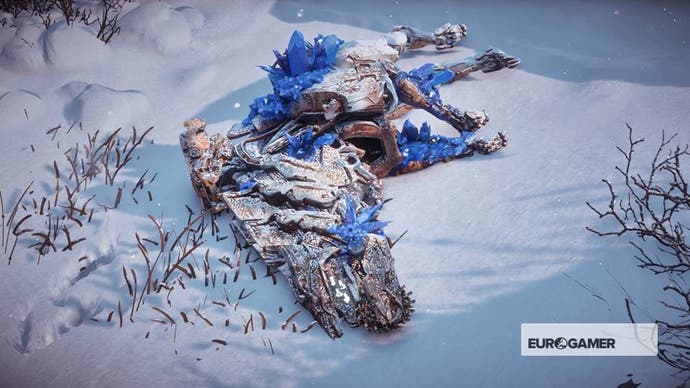 Bluegleam is also earned throughout errands and side quests. All Frozen Wilds' side quests give Bluegleam while only some errands do. Errands tend to only give one Bluegleam, examples of this include:
The Claws Beneath (1 Bluegleam)
A Secret Shared (1 Bluegleam)
Out of the Forge (1 Bluegleam)
---
For more tips, explainers and advice on Horizon be sure to check out our main Horizon Zero Dawn guide and walkthrough hub, which includes advice for things like Horizon Zero Dawn's override Cauldrons and which machines they let you control, getting hold of the Golden Fast Travel Pack for unlimited fast travel, finding and unlocking the very powerful Horizon Zero Dawn Shield Weave Armour and Power Cell locations, and then for DLC players there's our main Horizon Zero Dawn Frozen Wilds walkthrough and guide, a page on how to earn Bluegleam quickly, and finally, a page on the handy A Secret Shared quest and how to upgrade your spear in Horizon Frozen Wilds.
---
However, Frozen Wilds' side quests are much more valuable, giving upwards of three Bluegleam as a reward upon completion. The following lists the amount of Bluegleam received from each Frozen Wilds' side quests:
The Shaman's Path (6 Bluegleam)
Waterlogged (3 Bluegleam)
For the Werak (8 Bluegleam)
The Hunters Three (3 Bluegleam)
Frontier Justice (3 Bluegleam)
Firebreak (3 Bluegleam)
The Forge of Winter (7 Bluegleam)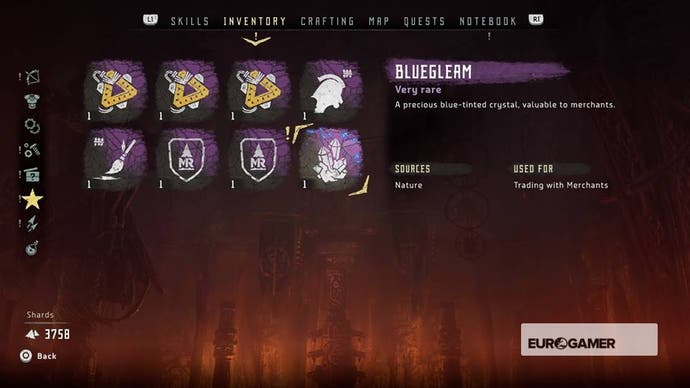 Weapons and armour typically cost at least 15 Bluegleam, so completing side quests isn't enough to buy all the new items. Buying the Bluegleam map is recommended, to ease the pain of trying to find Bluegleam in its natural habitat.
However, your weapon and outfit inventory may not have enough room for the new Banuk items so it may be a case of replacing some of what you already own. This may be a good idea anyway as players are rewarded three new weapons throughout the story.