Here's what you can do in Monster Hunter World's limited-time Witcher crossover event
Available now on Xbox One and PS4.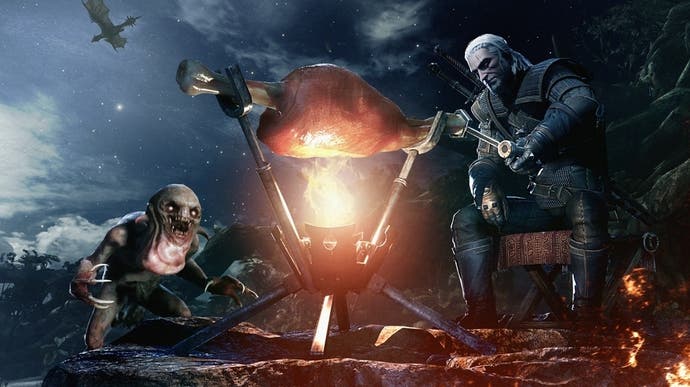 As you may or may not already be aware, Monster Hunter World has nuzzled up with the Northern Kingdoms today, as part of its Witcher crossover. Previously, Capcom was a little cagey regarding the specifics of the update, but now, with things underway, all has been revealed.
First things first, it's worth noting that Monster Hunter World's free Witcher crossover update is only available to download on Xbox One and PlayStation 4 at the moment. It is, however, due to arrive on PC at some currently unspecified future point.
Capcom's Witcher crossover is split into two separate parts. The first, a new Special Assignment known as Contract: Trouble in the Ancient Forest, is a wholly solo affair and casts players (as long as they're HR16 or above) as Geralt of Rivia - with voice actor Doug Cockle even returning to record some new lines for the project, as you can hear in the launch trailer below.
Completing the assignment - which features multiple endings, side quests, Geralt-exclusive abilities, and a fight with a formidable Leshen - unlocks the Geralt α full armour set for crafting, as well as the Witcher's Silver Sword weapon (a Sword & Shield) for your hunter. Palicos, meanwhile, get access to the Nekker α full armour set and Cursed Staff α.
For the time being, that's your lot as far as the Witcher crossover goes. However, from February 15th until March 1st, players will be able to take on a new limited-time quest, titled Contract: Woodland Spirit. This is intended for those with a Hunter Rank of 50 or above, and, unlike the first part of the crossover, is also available in multiplayer. Capcom says that hunters will be tackling an "ancient threat" - presumably the Ancient Leshen variant seen in the trailer - and that rewards include the Ciri α full armour set and matching Dual Blades.
And if that's still not enough new Monster Hunter World for you, Capcom will, as previously announced, be celebrating the game's first birthday in a special Appreciation Fest, which runs from Saturday, January 26th until Friday, February 22nd, on Xbox One, PS4, and PC. Oh, and you'll probably want to put the new Monster Hunter movie release date in your diary too. If only so you can give all cinemas a wide berth for the duration.