Here are four new images from the Uncharted movie
"A new year. A new adventure awaits."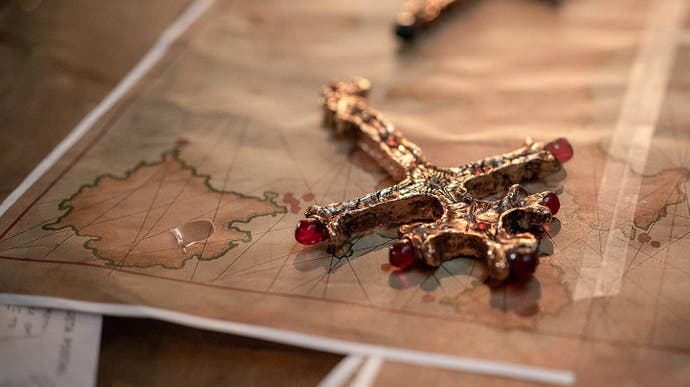 The Uncharted movie has dropped four stills taken from its highly-anticipated upcoming film, giving us a peek at some of its mysterious sets and props.
"A new year. A new adventure awaits," the tweet says, and attaches four stills taken on set. Here they are, although let's face it - they tell us more about the prop department than the movie itself:
They're not quite brand-new, either; anyone who watches Nolan North - yes, that's the same Nolan North that portrays Drake in the games - revealed two of them just before Christmas on his Retro Replay YouTube channel. Altogether, though, they depict a couple of ancient maps, a shiny gold cross that also apparently doubles as a key, and a room that requires a damned good dusting.
ICYMI, just days after catching a peek at Tom Holland on set as Uncharted lead Nathan Drake, a brief video has maybe given us our first sighting of Victor "Sully" Sullivan, too... or his moustache, in any case.
It's been something of a rollercoaster journey for the Uncharted film ever since we first heard of it back in 2009. After losing six directors ahead of Sony's planned release date of December 2020 (which was then delayed again due to COVID-19), things weren't looking great for the project, and at one point it looked like filming would start without a director. But in March a seventh director appeared in the form of Ruben Fleischer (Zombieland, Venom) and it was the seventh time lucky for the production; filming has now - finally! - wrapped.
In February, Holland said the film told the origin story of the games, and the script was "one of the best [he's] ever read". Perhaps there's hope yet for this cursed production - we'll find out one way or the other when it releases on 16th July, 2021.
"I think what Uncharted offers that most video games films don't is that it's an origin story to the games," Holland said at the time. "So if you played the games, you haven't seen what's going to happen in the film," he said. "And if you haven't played the games, you're going to enjoy the film because it's information that everyone else is getting at the same time. But I'm super excited to make that movie and it's been a long time coming."