Guild Wars 2: bans for first "widespread exploit", game sales suspended, status update
ArenaNet reacting well so far.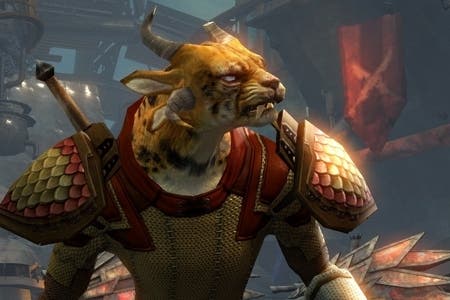 Another night, another flurry of activity by Guild Wars 2 developer ArenaNet. An MMO community thrives on maker-to-mouth communication and, so far, ArenaNet has showed a healthy regard for just that.
There are three main points to cover here: the game's first "widespread" exploit; the suspension of game sales; and the latest status update. I'll tackle them in that order.
Incidentally, I interviewed ArenaNet co-founder Mike O'Brien yesterday evening, and the fruits of that chat I'll share with you later.
The exploit
ArenaNet permanently banned 3000 Guild Wars 2 players overnight for exploiting an AI vendor/merchant who was wrongly selling weapons at a ridiculously low price. The banned players were bulk buying from the vendor and salvaging the weapons for valuable crafting materials, buggering up the economy.
But isn't a permanent ban a bit strong for being what could be described as opportunistic? After all, it wasn't the players' mistake, and were they really breaking the rules by buying items from an AI vendor? They knew what they were doing, and the permanent bans are a statement of intent, lead producer Chris Whiteside shared on Reddit. "We take our community and the integrity of the game very seriously, and want to be clear that intentionally exploiting the game is unacceptable," he wrote. "The players we banned were certainly intentionally and repeatedly exploiting a bug in the game.
"We intended to send a very clear message that exploiting the game in this way will not be tolerated, and we believe this message now has been well understood."
However, because this is "the first widespread exploit" and because "people make mistakes", ArenaNet is offering to turn permanent bans into 72-hour bans. For this to happen, banned players must agree to delete all items and money gained via the exploit. More specific instructions are in his post.
"We intended to send a very clear message that exploiting the game in this way will not be tolerated, and we believe this message now has been well understood."

Chris Whiteside, lead producer, Guild Wars 2
The suspension of game sales
Digital sales of Guild Wars 2 via the Guild Wars 2 website have been temporarily disabled while ArenaNet sorts everything out for those people who are playing.
"Ensuring the best possible play experience for our fans is our highest priority," wrote community manager Regina Buenaobra on Facebook. "We've said before that we would be willing to temporarily disable first-party digital sales if we felt our high player concurrency may compromise player experiences. We have now reached that point."
Sales of Guild Wars 2 elsewhere are unaffected. "We'll re-enable first-party digital sales as soon as we feel that we can do so safely," she added.
Status update
Yesterday's Guild Wars 2 status update by ArenaNet co-founder and boss, Mike O'Brien, was a bit of a monster. I'll be more brief here.
Not that much has changed. Problems with grouping on overflow servers are down to a wider set of issues with parties/guilds/social, and they're still being whittled down. Increasing amounts of people (now 25 per cent of the population) are testing the Trading Post live, and at random. In-game mail has been re-enabled.
Email authentication has been switched on for everybody, but password resets are still disabled.
Tournament chest rewards are a new issue being looked at, but a fix will require "substantial" testing so "we do not have an estimated release time-frame to provide".
ArenaNet banned 500 players who were botting and banned them for 72-hours.