GTA5's recent Steam reviews are "overwhelmingly negative" amidst mod controversy
The last 41,343 user reviews are largely unhappy with Take-Two.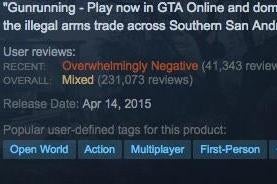 Grand Theft Auto 5 publisher Take-Two Interactive has found itself in the crossfire after sending a cease and desist letter to the lead developer of popular modding software OpenIV. In fact, people are so unhappy with the company that GTA5, a game that's typically been very widely acclaimed, now has a recent Steam user rating that averages as "overwhelmingly negative".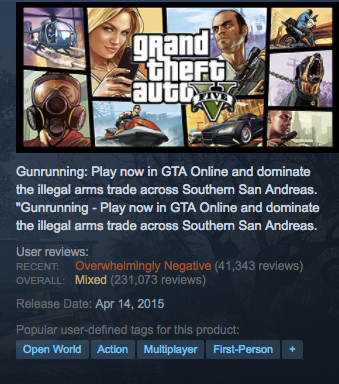 To arrive at this score, Steam averaged the user rating across the last 41,343 reviews, so this anger towards Take-Two is more widespread than a vocal minority of frustrated modders.
Looking at the game's overall user rating, across a staggering 231,073 reviews, it's come out as "mixed".
GTA5 developer Rockstar Games has previously said that it has no problem with people modding its game, so long as the user-made content is confined to single-player and it doesn't affect GTA Online. Take-Two, however, claimed that OpenIV "enables recent malicious mods that allow harassment of players and interfere with the GTA Online experience for everybody."
To its credit, Rockstar Games said that it would like to find a less draconian solution to this problem. "We are working to figure out how we can continue to support the creative community without negatively impacting our players," the studio said in response to fan criticism.
But in the meantime, people are not happy.
The most highly rated Steam user review by someone called EMT said "On behalf of the OpenIV team, ♥♥♥♥ you," and linked to an online petition requesting the publisher allow OpenIV. As of publishing, that petition has 53,810 signatures with a goal of 75k. Of course, there's no telling if reaching its goal will have any actual impact on Take-Two.
The next most popular Steam user review by RemyBrando said "Don't buy this, Take-Two Interactive is screwing it over with the online gameplay and anti modding policies."
Next we've got Steam user "Nintendo_of_America" (not really Nintendo) saying "Take two just essentially banned modding for this game, I'll never support them again," followed by someone called Polecat Von Einzbern saying "As much as it pains me to give this game a negative review we can not just sit around and let them destroy single-player modding."
User Aevus simply stated "RIP OpenIV. Go to hell Take Two and Rockstar."
It just goes on like this.
We've requested comment from Take-Two about this controversy and will update as we hear more.