Popular GTA mod OpenIV receives cease and desist from Take-Two
UPDATE: Rockstar says it still supports single-player mods, is working on a solution.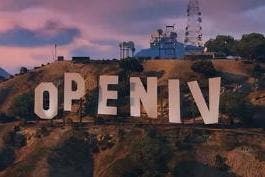 UPDATE 15/06/2017 1.22am: Grand Theft Auto developer Rockstar Games has responded to OpenIV's removal, claiming that the software could interfere with the game's online modes and that it's working on a solution that will enable fans to still make single-player mods.
"Take-Two's actions were not specifically targeting single player mods. Unfortunately OpenIV enables recent malicious mods that allow harassment of players and interfere with the GTA Online experience for everybody," the developer said in a statement to PC Gamer. "We are working to figure out how we can continue to support the creative community without negatively impacting our players."
ORIGINAL STORY 15/06/2017 12.06am: Popular Grand Theft Auto modding software OpenIV has been taken offline after its developer received a cease and desist letter from publisher Take-Two Interactive.

According to OpenIV's lead developer GooD-NTS on the GTA forums, Take-Two said OpenIV would "allow third parties to defeat security features of its software and modify that software in violation Take-Two's rights".
GooD-NTS said that this accusation is unfounded and that the letter "is illiterate both technically and grammatically."
That being said, the modder has chosen to back down from fighting the video game publisher.
"Yes, we can go to court and yet again prove that modding is fair use and our actions are legal. Yes, we could. But we decided not to," GooD-NTS said.
"Going to court will take at least few months of our time and huge amount of efforts, and, at best, we'll get absolutely nothing. Spending time just to restore status quo is really unproductive, and all the money in the world can't compensate the loss of time," they added.
"So, we decided to agree with their claims and we're stopping distribution of OpenIV."
"It was a hard decision, but when any modding activity has been declared illegal, we can't see any possibilities to continue this process, unless top management of Take-Two company makes an official statement about modding, which can be used in court," GooD-NTS lamented.
Back in 2015 GTA developer Rockstar claimed that mods were totally acceptable, so long as they didn't alter the game's online modes. "No one has been banned for using single-player modifications, and you should not worry about being banned or being relegated to the cheater pool just for using single-player PC mods," Rockstar said at the time.
GooD-NTS was adamant that it tried to play ball with Rockstar's rules and that OpenIV contained "No distribution of original data and code" and it did "absolutely no messing with online."
This isn't the first time Take-Two has cracked down on GTA mods. In 2015 the publisher sent a cease and desist letter to the folks behind multiplayer mod FiveM. Allegedly the publisher even sent private eyes to intimidate a modder into pulling the plug on their project.
We've requested comment from Take-Two Interactive and will update should we hear back.