GTA modding tool OpenIV resurfaces following Take-Two's cease and desist
Popular mod software "will be continued soon", says developer.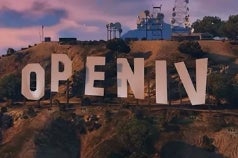 Two weeks ago the popular Grand Theft Auto modding program OpenIV was taken offline after the game series' publisher Take-Two Interactive sent a cease and desist notice to its developers. Now it's back.

The OpenIV homepage has reinstated its download button a mere two weeks after its developer, Yuriy "Good-NTS" Krivoruchko, wrote an angry screed saying that they would comply with the publisher's demands, but that they weren't happy about it.
The reason for the publisher's crackdown on OpenIV is that it claimed the software opened the door up for people to tinker with GTA Online. GTA developer Rockstar Games has recently clarified that it has no issue with single-player mods, but it's concerned that in the wrong hands OpenIV mods could alter the online multiplayer game's carefully crafted ecosystem and ruin the experience for other players.
"Take-Two's actions were not specifically targeting single player mods. Unfortunately OpenIV enables recent malicious mods that allow harassment of players and interfere with the GTA Online experience for everybody," Rockstar said after the cease and desist notice was sent.
"Rockstar Games believes in reasonable fan creativity, and, in particular, wants creators to showcase their passion for our games," the developer later clarified. "After discussions with Take-Two, Take-Two has agreed that it generally will not take legal action against third-party projects involving Rockstar's PC games that are single-player, non-commercial, and respect the intellectual property (IP) rights of third parties."
Good-NTS admitted in an interview with Motherboard that OpenIV could potentially be used to make GTA Online mods, but that was never its intended purpose.
Since reinstating OpenIV, the mod developer told Kotaku that "the development of OpenIV will be continued soon."
Upon the initial closure of OpenIV, Rockstar said "We are working to figure out how we can continue to support the creative community without negatively impacting our players."
It's not clear exactly what it being done to address the problem, but it sounds like Rockstar is dedicated to keeping the GTA mod scene alive, so long as it can work out a solution that won't endanger Take-Two's control over the multiplayer portion of the game.