Gorgeous gothic action-platformer Blasphemous gets September release date
On PC, Xbox One, PS4, and Switch.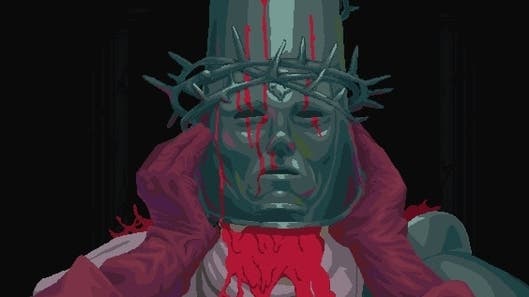 Developer The Game Kitchen's beautifully grotesque "non-linear" action-platformer, Blasphemous, will be arriving on Xbox One, PlayStation 4, PC, and Switch on 10th September, publisher Team 17 has revealed.
Blasphemous charts the hellish adventures of The Penitent One, an impressively pointy hatted fellow caught in an "endless cycle of death and rebirth". It's your job, as the dangerously bonced hero, to traverse the desolate, accursed kingdom of Cvstodia, smacking about some truly unsettling things with your barbed-wire sword, known as the Mea Culpa.
According to The Game Kitchen (which was previously responsible for wonderfully atmospheric Lovecraft-inspired point-and-click adventure series The Last Door), Blasphemous' "punishing" action combines exploration with the "fast-paced, skilled combat of a hack-n-slash game".
"Devastating combos and brutal executions" are the order of the day, and, when it all gets too much, players are able to utilise any relics, rosary beads, and prayers they find in order to "call on the powers of the heavens to aid you in your quest to break your eternal damnation."
Blasphemous will cost £19.99/$24.99 USD when it launches, monstrous giant demon babies and all, on PC, Xbox One, PS4, and Switch this September.