Goat Simulator to receive splitscreen multiplayer
UPDATE: Also adding "goat parkour".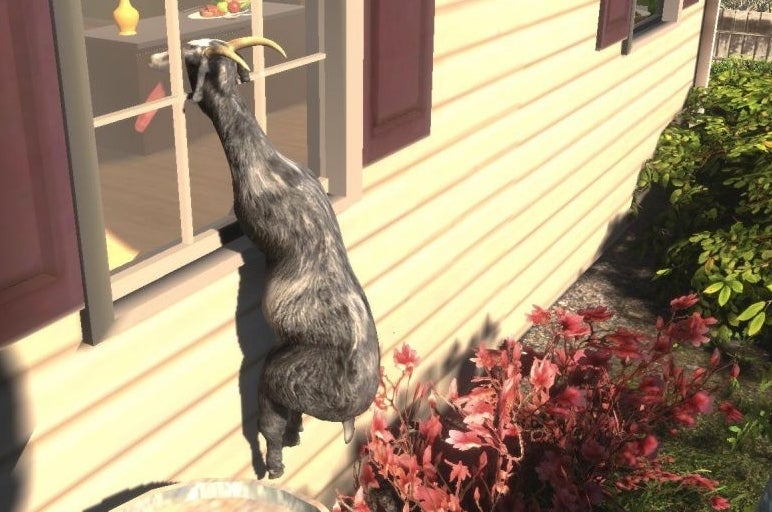 UPDATE 24/04/2014: Goat Simulator's upcoming patch 1.1 will add "goat parkour".
The developer announced this new addition in a teaser video on Goat Simulator's Facebook page.
The Goat Simulator 1.1 update is still slated for a mid-May release.
ORIGINAL STORY 07/04/2014: Goat Simulator will be getting splitscreen multiplayer as a free add-on as part of its 1.1 update due in mid-May, developer Coffee Stain Studios has announced.
If that wasn't amazing enough, the Swedish developer is also adding a new map that's "roughly the size of the original vanilla map".
The 1.1 update will also include new playable goats, achievements and more.
"A lot of people have been asking for DLC with new maps for Goat Simulator, but we would feel bad charging people for DLC content when people can just download new stuff for free from the Steam Workshop, so we decided to do a free update instead," said Coffee Stain's Armin Ibrisagic.
Eurogamer contributor Dan Whitehead found Goat Simulator's jokey premise was a bit long in the tooth, but remained entertaining enough to justify its modest asking price. "It's rough around the edges, and amuses only for a short but sweet time, which may lead some to look askance at the price tag. Yet there are plenty of games which cost more and entertain far less, so while Goat Simulator is a joke, it's at least one in which the player is a willing participant," he wrote in his Goat Simulator review.
To get a better sense of what it's like to be a goat, Eurogamer YouTube editor Ian Higton provided us with a Let's Play video of his calf-based shenanigans below.