GAME "may" stock Mass Effect 3 in the future
Limited editions and other exclusives "a question for our suppliers".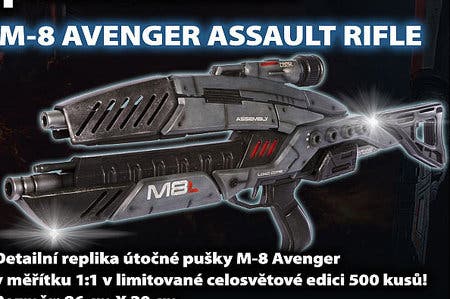 GAME "may" stock Mass Effect 3 in the future.
The embattled high street shop called on its customers to "continue their loyal history with us" in a FAQ designed to address concern following today's news that GAME will not stock Mario Party 9, Mass Effect 3, FIFA Street, Tiger Woods 13, and Sims 3 Showtime.
"What message do you have to gamers who are afraid of pre-ordering with GAME because they're worried they may be cancelled at the last minute because you can't stock them?" GAME asked itself.
It's response: "Well, we know our customers really well. Most of them have a really long history with us, and they know as a business we are absolutely committed to giving the best possible range as much of the time as we possibly can.
"Clearly we have had a small number of issues in the last couple of weeks but we are working to resolve that going forward. We hope our customers will understand that these are temporary issues and continue their loyal history with us."
GAME's FAQ echoes comments made by GAME Group Marketing Director Anna-Marie Mason at the launch of PlayStation Vita last week. She told Eurogamer GAME wouldn't be able to stock "absolutely everything", but promised gamers it would honour pre-orders for titles that were currently on sale.
That, obviously, hasn't worked out.
GAME's problems stem from the loss of credit insurance with the banks, which has had the knock on effect of publishers asking it to pay cash up front for stock - something the retailer is struggling to do.
In an internal memo emailed to GAME and Gamestation staff this morning and obtained by Eurogamer, the company said it refused to stock EA titles because it was "committed to only stocking products on which we could get the right credit terms".
"Last week we held an event for our publishers in the industry and explained the challenges we are facing in the short term - and we asked for their support," the memo reads.
"We asked them to trade with us using manageable credit terms, and for them to continue to do that whilst we work through the strategic review and refinancing of our business.
"We gave the industry commitments - we committed to integrity and openness in our dealings, and working with everyone equally.
"We committed to only stocking products on which we could get the right credit terms, regardless of the title or the supplier. We will not stock products if the terms are not right for our business - a position we believe is critical to our long term health as a business - we have taken the very difficult decision to not stock EA's March releases, including Mass Effect 3."
In today's FAQ GAME said it will contact its customers "if there are issues with any other titles".
But why is this happening?
"GAME are a hugely popular brand with gamers of all ages," reads the statement. "The high street is having a tough time at the moment because people have less money to spend.
"We're doing as much as we can to give our customers the widest possible range during this time, but as flagged before, we need our partners help in order to do this. We want to be in a position where we're selling as much of their products as we possibly can. We need their help to do this and that's what we're working on at the moment."
GAME said it plans to offer exclusives from publishers, such as limited editions, but whether it will be able to do so is "really a question for our suppliers".